Home / Store / Zines / Muse, the News, & the Noose #6 Quiet Songs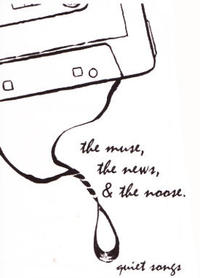 the Muse News, & the Noose #6 Quiet Songs
$2.00
This zine gets it on paper in solid concrete narrative prose and yet doesn't lose any of its punk rock charm.
"Stink House Rules: NO smoking We Recycle, Clean up after yourself No Racist, Sexist or Homophobic Behavior (you will be asked to leave) NO Fights NO Fireworks Ohio Sucks because You Suck!
In pen someone had written 'No Fun'. It hadn't ben erased yet."
---
More by John Wawrzaszek