Home / Store / Zines / Distance #1 Concerns Beginnings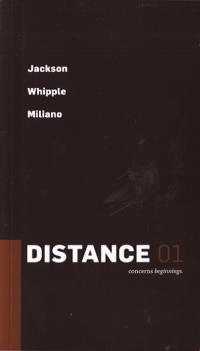 Distance #1 Concerns Beginnings
about 80p?, black and brown ink, 4.25"x7.25"
$20.00
"
We don't write well enough. Linkbait invective spreads quickly because it angers people, in turn prompting a degradation in the quality of writing. People write opinions unchecked and unedited, leading to thoughtless arguments and shoddy research.
We don't read well enough. We deal with problems of curation and moderation, which both stem from finding trusted sources to sift through the morass for us. We don't focus on writing of substantial length, and we place rants on a pedestal, even though they don't offer any solutions.
We don't talk about writing well enough. To be sure, we've made inroads here, but I don't think it goes sufficiently far. Comments aren't moderated well enough on most sites, and thriving communities are difficult to build.
I want to create a space where we can do all three of these things better, so I've spent the past few months working with several others on the beginning. Presenting Distance: a quarterly journal for long-form essays about design and technology.
The first issue has essays from Ben Jackson, Vitorio Miliano, and Jon Whipple; you can read more about the content and authors at the journal's aforelinked site. Subscriptions and single issues will be available, in both print and "digital bundle" (PDF, Kindle, and ePub) form." -Nick Disabato, editor