Home / Store / Zines / Nobrow #6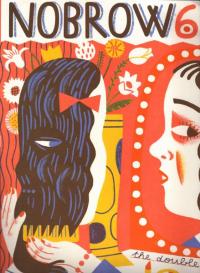 Nobrow #6
Published by NoBrow Press
128p, full color, softcover, 8.5"x12"
$24.00
"Now 128 pages with over 60 pages of Comics from the leading talents in the field from all over the world as well as 60 pages of fantastic illustration!
We are also offering a subscription service for the next two issues here.
Nobrow started three years ago with a bit of a dream to change people's perception of illustration, to lend it the opportunity to speak for itself, to instil merit in the discipline as an art in its own right, to give it space to breathe and to feature talent from all areas of its fantastically diverse landscape, at every stage of their careers: from the puckish newcomers to the well versed veterans. Three years on, five issues and over 30 publications later we are taking our magazine to virgin territory and with the same zeal and vigour seeking to push a field we have always been equally passionate about, comics, into new territories. Featuring the best of established talents in the industry and the bright young things coming up quickly through the ranks, issue 6 of Nobrow Magazine doubles in size to include, alongside its 60 pages of illustrations, 60 pages of groundbreaking comics!
To honour our Double issue, which will set the precedent for future issues of Nobrow, we have asked over 60 artists to contribute work to the theme of Doubles or Doppelgangers. Doubles have appeared in theatre, literature and mythology from our earliest written records. From Greek and Norse Mythology to Shelly, Dostoevsky, Donne and Goethe the idea has held a tantalising grip on the human imagination, fascinating and terrorising us in equal measure. Now we turn it over to 60 illustrators and graphic storytellers to interpret it as they wish, each, taking on one 'double' page spread. With contributions from Tom Gauld (The Gigantic Robot), Kevin Huizenga (Ganges), Blanquet (Toys in the Basement), Malachi Ward (Utu) as well as new narrative work from Nobrow stalwarts Jon McNaught (Birchfield Close, Pebble Island), Jack Teagle (Jeff: Job Hunter) and Luke Pearson (Hildafolk) and the formidable talents of Michael Deforge and Ignatz newcomer award winner Joseph Lambert, among many, many others. Illustration submissions from the likes of Sean Lewis, Roman Muradov, Golden Cosmos, Gwenola Carrere, Andrea Kalfas, Viviane Scwartz, Katia Spitzer, Luke Best and many many more!"