Home / Store / Gifts / Plywood Pizza Slice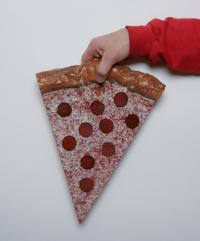 Plywood Pizza Slice
Jumbo wood slice, about 10"x13"x1.75"
$20.00
My friend Garth does furniture refinishing and makes these AMAZING wooden pizza slices out of scrap materials. Seriously, they are objects of pleasure and joy to treasure to hold- nothing cheers me quite like a homemade wooden jumbo slice with foam crust and paint sauce and shredded plastic cheese and wood disc pepperoni. -EF
Please specify if you'd like a cheese or pepperoni slice and these may require extra postage to ship, we'll contact you once we get your order.