Home / Store / Zines / Conium Review vol 1 #2 Fall 12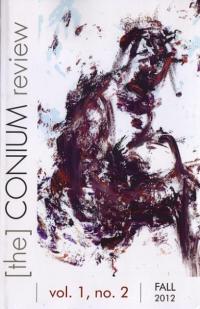 Conium Review vol 1 #2 Fall 12
198p, b&w, 5.5"x8.5"
$12.00
"The sophomore issue of The Conium Review contains fourteen poems, six pieces of flash fiction, and a novella. The piecers include absurdist satire, experimental poetry, realist fiction, and minimalist prose from a wide range of authors.

The contributing poets and writers are Rachel Adams, Geoffrey Anderson, Linda Boroff, Jim Davis, Mark Farrell, Zach Fishel, Chris Fradkin, Keith Gaustad, Jack Granath, Jonathan Greenhause, Rose Hunter, Mark Jackley, Trevor Ketner, John McCarthy, George Moore, Robert Pope, Tigh Rickman, Kerri D. Schuster, Ryan Shoemaker, Travis Taylor, Jake Tuck, Jessica Tyner, Chelsea Werner-Jatzke, Charles Wilkinson, and Kirby Wright. The cover art is courtesy of Ernest Williamson III. Learn more about the contributors here.

The Guest Editor for this issue is Ian Chung; he is an Assistant Poetry Editor at Epicentre Magazine and a Fiction Editor at The Cadaverine."
."