Home / Store / Zines / N Plus 1 #16 Spr 13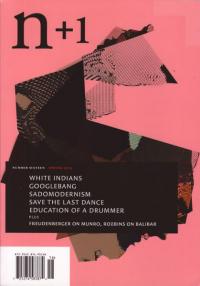 N Plus 1 #16 Spr 13
188p, b&w, 7"x10"
$13.95
"THE INTELLECTUAL SITUATION
Too Much Sociology
Think back to the first time you heard someone casually talk of "cultural capital" at a party, usually someone else's inglorious pursuit or accrual of it.
White Indians
No minority presence in the US is more reassuring, or less likely to get angry or acknowledge your antiblack racism.
Cultural Revolution
Released, unprotected, into the dark fields of the republic, we would find new things to say and, with luck, new people to say them to. "