Home / Store / Books / Hard Art Photography DC 1979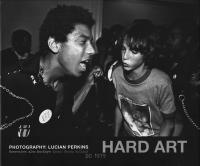 Hard Art Photography DC 1979
by Alec MacKaye and Lucian Perkins
Published by Akashic Books
94p, b&w, hardcover, 10"x8.25"
$23.95
"In 1979, a soon-to-erupt punk scene took hold in Washington, DC, with bands like the Bad Brains, Trenchmouth, Teen Idles, the Untouchables, and the Slickee Boys, among others, at the forefront. Lucian Perkins, later a Pulitzer Prize -winning photojournalist for the Washington Post, was then an intern who photographed several pivotal shows over a short period of time. His now iconic photos of these shows are complemented by punk rock musician Alec MacKaye's narrative that runs throughout the book and an essay by Henry Rollins.
Hard Art, DC 1979 is both a book and a traveling exhibition of photographs by Lucian Perkins. The exhibition is curated and edited by photographer and photo editor Lely Constantinople and Jayme McLellan, director of Civilian Art Projects, Washington, DC, with photographs being shown as a group for the first time.