Home / Store / Books / Inside Scientology SC the Story of Americas Most Secretive Religion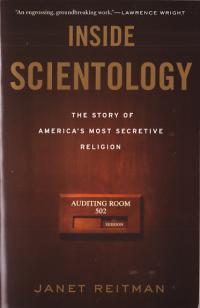 Inside Scientology SC the Story of Americas Most Secretive Religion
Published by Mariner
444p, b&w, softcover, 5.25"x8"
$15.95
"Scientology is known for its celebrity believers and its team of "volunteer ministers" at disaster sites such as the World Trade Center; its notably aggressive response to criticism or its attacks on psychiatry; its requirement that believers pay as much as hundreds of thousands of dollars to reach the highest levels of salvation. But for all its notoriety, Scientology has remained America's least understood new religion, even as it has been one of its most successful.

Now Janet Reitman tells its riveting full story in the first objective modern history of Scientology, at last revealing the astonishing truth about life within the controversial religion for its members and ex-members. Based on five years of research, confidential documents, and extensive interviews with current and former Scientologists, this is an utterly compelling work of nonfiction and the defining work on an elusive faith."