Home / Store / Books / Down and Dirty 69 Super Sexy Short Shorts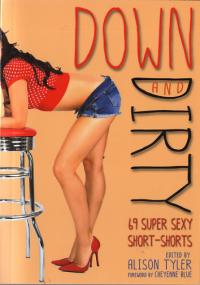 Down and Dirty 69 Super Sexy Short Shorts
by Alison Tyler
Published by Cleis Press
310p, b&w, softcover, 5"x7"
$15.95
"The "Queen of the Quickie" returns with fresh flash fiction that will make you beg for more. The editor of Frenzy, Alison Tyler has collected 69 super sexy, short-short stories designed to leave you breathless. In the editor's own words, "While the themes cover any X-rated connoisseur's favorite lustful laundry list, all of the pieces have one thing in common: they're dirtier than dirty...just the way I like them!" On a mission to provide something scintillating for every erotic desire, Ms. Tyler includes stories about sexy spankings, bondage, ménages à trois, sex toys, voyeurism, exhibitionism and much, much more.
Down and Dirty showcases the salacious sex writers Maxim Jakubowski, Thomas S. Roche, M. Christian, Sage Vivant, N. T. Morley, Rachel Kramer Bussel, Dante Davidson and more. Perfect for reading at the beach, on the train, during a coffee break or anytime you've got a minute!"