Home / Store / Books / Adventure Time Encyclopaedia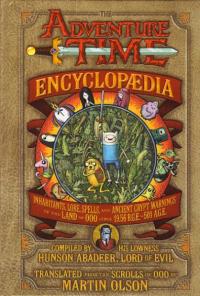 Adventure Time Encyclopaedia
by Martin Olson
Published by Abrams
154p, color, hardcover, 6.25"x9.25"
$19.95
"Written by the Lord of Evil Himself, Hunson Abadeer (a.k.a. Marceline the Vampire Queen's dad), to instruct and confound the demonic citizenry of the Nightosphere, The Adventure Time Encyclopaedia is perhaps the most dangerous book in history. Although seemingly a guidebook to the Land of Ooo and its postapocalyptic inhabitants, it is in fact an amusing nightmare of literary pitfalls, bombastic brain-boggles, and ancient texts designed to drive the reader mad.

Complete with secret lore and wizard spells, fun places you should visit and places where you will probably die, advice on whom to marry and whom not to marry, and how to make friends and destroy your enemies, this volume includes hand-written marginalia by Finn, Jake, and Marceline.

Arguably the greatest encyclopaedia ever written since the beginning of the cosmos, it is also an indispensable companion to humans and demons who know what time it is: Adventure Time!"
Adventure Time!"