Home / Store / Books / Peoples History of the US Military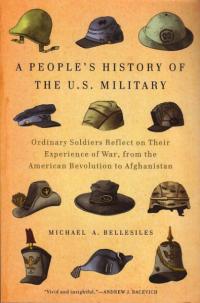 Peoples History of the US Military
Published by New Press
376p, b&w, softcover, 6"x9"
$19.95
"In A People's History of the U.S. Military, historian Michael A. Bellesiles draws from three centuries of soldiers' personal encounters with combat -through fascinating excerpts from letters, diaries, and memoirs, as well as audio recordings, film, and blogs -to capture the essence of the American military experience firsthand, from the American Revolution to the wars in Iraq and Afghanistan.
Military service can shatter and give meaning to lives; it is rarely a neutral encounter, and has contributed to a rich outpouring of personal testimony from the men and women who have literally placed their lives on the line. The often dramatic and always richly textured first-person accounts collected in this book cover a wide range of perspectives, from ardent patriots to disillusioned cynics; barely literate farm boys to urbane college graduates; scions of founding families to recent immigrants, enthusiasts, and dissenters; women disguising themselves as men in order to serve their country to African Americans fighting for their freedom through military service. "