Home / Store / Books / Pick a Plot Book 2 You Are a Cat in the Zombie Apocalypse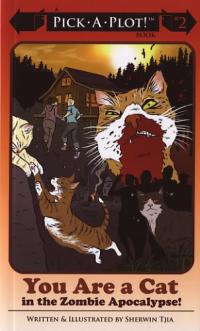 Pick a Plot Book 2 You Are a Cat in the Zombie Apocalypse
by Sherwin Tjia
Published by Conundrum Press
256p, b&w, softcover, 4.25"x7"
$18.00
"You are Holden Catfield. You're a cat! It's a pretty peaceful life. But one day the man in the family you live with comes home feeling sick, passing out in the living room. When he awakes, he tries to bite everyone! Quickly you're all out the door. The girls are getting into a car but your thoughts stray to your girlfriend several houses down the alley. What will you do? If you decide to get in the car with the girls, turn to page 32. Or, you could look in on your girlfriend on page 8. But if all this is too much for you and you want to go back inside and find a quiet place to take a nap, go in your cat door on page 7. The choice is yours! But beware! All you've ever known is over. You, the former great hunter of mice and birds now finds himself running
from every tiny movement...
Inspired by the gamebook fad of the 80s - You Are a Cat in the Zombie Apocalypse! is the much anticipated sequel to the first book in the Pick-a-Plot series, You Are a Cat! Lavishly illustrated from the first-person feline floor purrspective, the furightening and appawling You Are a Cat in the Zombie Apocalypse! is a horror tail that will stalk you, surround you and eat you alive."
---
More by Sherwin Tjia