Home / Store / Books / How to Win at Everything Even Things You Cant or Shouldnt Try to Win At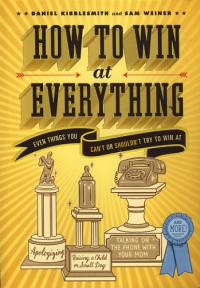 How to Win at Everything Even Things You Cant or Shouldnt Try to Win At
by Daniel Kibblesmith and Sam Weiner
Published by Chronicle Books
160p, softcover, 5"x7"
$15.99
"Nobody wants to be a loser. With this revolutionary new handbook, readers will learn how to win at literally everything* -even things that aren't contests, and that you can't or shouldn't try to win at, such as dreaming, apologizing, and talking on the phone with your mom. Crucial illustrated advice and instruction guides would-be winners through activities including bird-watching (start by spotting common species like pigeons, or dogs), job interviews (maintain eye contact: very smart people do not need to blink), and many more scenarios for success. In sharing their hard-won knowledge, the authors -noted experts at this sort of thing- help readers become the future winners they were meant to be.

*actually, more like dozens of things"
*actually, more like dozens of things"