Home / Store / Comics / Tijuana Bible ($5.00 Grab Bag Pick)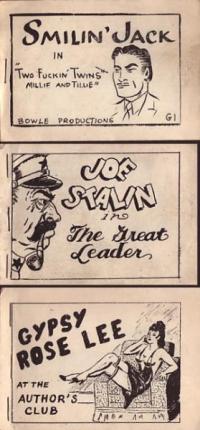 Tijuana Bible ($5.00 Grab Bag Pick)
approx 20p, b&w, approx 4.25"x3"
$5.00
Blasting from the past, allow us to pleasure you with a random pick from our outrageous, titilating stash of vintage Tijuana Bibles!
NOTE: you will not neccessarily be receiving one of the titles pictured- shown are representative examples from our collection. We will send you one of our $5.00 Tijuana Bible titles, hand chosen for you by our skilled smut sommeliers.