Home / Store / Books / Best of Wonder Warthog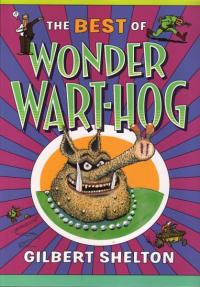 Best of Wonder Warthog
Published by Knockabout
464p, b&w with some color, softcover, 7.25"x10.25"
$29.95
" LOOK!! UP IN THE SKY!! It's a BIRD! It's a PLANE! It's a BLIRD! It's a PANE!
Collected here in this handsome new volume are the greatest hits of Shelton's favorite and most archly-satirical comic book antihero.
In everyday life he is mild-mannered, slightly-built reporter Philbert Desanex, but lurking deep inside him is Wonder Wart-Hog, the 8-foot tall, 800 pound Hog of Steel. Whenever he is called upon, Wonder Wart-Hog shows up to save the day and applies his universal solution to all of life's problems... extreme violence!
Wonder Wart-Hog started in 1962 and is Shelton's earliest comic work."