Home / Store / Books / Most Beautiful Rot, The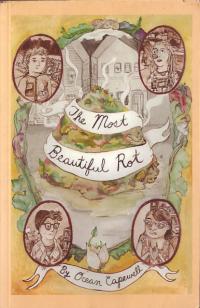 The Most Beautiful Rot
222p, b&w, softcover, 5"x8.25"
$12.95
A new book from Ocean Capewell of "High on Burning Photographs" zine!
"The Most Beautiful Rot is a secret peek into the backyards and living rooms of young queer america. It's a testament to the act of digging through the bleakness of everyday life to find something beautiful growing underneath, something that you weren't expecting. This book is also about overflowing dumpsters, stupid men, catastrophic illness, hot queer makeouts, and a compost pile gone horribly wrong. It's about solidarity, kale, girl love, and the families we make when our other families leave us behind.
The story is narrated by four housemates: Tabitha, Xandria, Jasmine and Lydia. First we meet Tabitha, the youngest, newest housemate who's super-excited to have discovered this new way of life, until she discovers something untoward in the compost pile. She tries to seek revenge, but even that goes awry. Next, the focus is turned over to Xandria, our reformed crusty who's wrestling with some ghosts from her past that won't stop haunting her. Jasmine takes over the narration next with her dreamy, poetic style that culminates in a shocking