Home / Store / Gifts / Hollywood Said No Audio CD Orphaned Film Scripts Bastard Scenes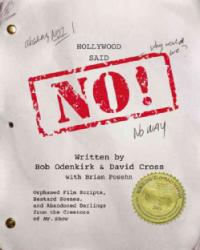 Hollywood Said No Audio CD Orphaned Film Scripts Bastard Scenes
by David Cross and Bob Odenkirk and Brian Posehn
Published by Blackstone Audio
3 CDs
$40.00
These three CDs are unabridged, consisting of abandoned darlings from the creators of Mr. Show. It's like watching the show, with the actual voices of Bob and David and their friends, but just without the visual. And did we mention NEVER BEFORE SEEN (ahem, HEARD) material. This audio scratches that Mr. Show. itch you've been missing since the show went off the air all those years ago.
Since Mr. Show closed up shop, Bob and David have kept busy acting and directing...and also, complaining about ideas that never came to fruition. Now, for the first time, hear the sketches performed that didn't get the go-ahead and ponder a world we can only dream about.

Performed by Bob Odenkirk, David Cross, Scott Adsit, Scott Aukerman, Stephanie Courtney, John Ennis, Jay Johnston, Lauren Lapkus, Jerry Minor, Artemis Pedani, Brian Pohsehn, Mark Rivers, Mary Lynn Rajskub, and Paul F. Tompkins.
---
More by David Cross and Bob Odenkirk and Brian Posehn