Home / Store / Zines / Bitch #91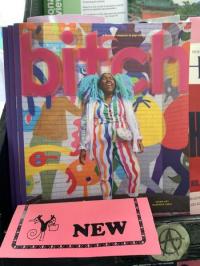 Bitch #91
8.25"x10.75", 96p, full color magazine
$12.95
As per the mag:
We live in an inflexible world. The rich get richer, the poor get poorer, rapists evade accountability, and the police kill Black, Indigenous, and Latinx people with relative impunity. Our conditions create a sense that the inflexibility of our world is its constant condition, incapable of bending into something beyond what it has always known and reinforced. Our Plastic issue considers what the material itself can teach us about plasticity or the process of molding something new. Whether discussing credit card debt and imposter syndrome or decriminalizing sex work and giving immigrants the rights they deserve, we are consider what it means to survive a world that refuses to bend and how we can coax a new one into being.
FIRST OF ALL
Letter from the Editor | Evette Dionne
Snaps or Scraps
Out of the Box Advice from Samantha and Addy
7 on Plastic
Feminist Fill-In: Chelsea Rochman
DISPATCHES
Owe Really: Financial Advice Ignores the Shared Reality of Debt | Katherine D. Morgan
Toys Are Us: Unlocking Trauma through Classic Trinkets | Alaina Leary
Refresh and Rebuild: Plotting the Future of New York's Most Conservative Borough | Andrea Ruggirello
FEATURES
The Audacity of Confidence: Is It Imposter Syndrome or Is It Patriarchy? | Adrienne Lawrence
Ready For Those Jellies: The Shoe That Became Both Cheap Luxury and Status Symbol | Brooklyn White
Terms of Service: Inside Social Media's War on Sex Workers | Reina Sultan
Stacked Deck: The True Costs of Breast Implants | Michelle Polizzi
Headhunters: Are Psychedelics Capitalism's New Productivity Hack? | Nora Salem
Waste Land: For Migrants, Water Bottles Are a Matter of Life and Death | Barbara Sostaita
FROM THE HQ
Letter from the HQ
Fellowship Frequency: Nora Salem
Rage Report
Staff Sound Off
CULTURE
Super Saturated: Amina Mucciolo Sits Atop the Rainbow Curve | Mary Retta
You Can't Sit With Us: 6 Mean Girls Who Taught Us the Art of the Insult | Marina Watanabe
BOOKS
No Way Up: Kathy Wang's Impostor Syndrome Is a Tech World Satire | Adwoa Afful
BitchReads
What We're Reading: The Other Black Girl
SCREEN
Cerulean Blues: The Devil Wears Prada Fashions a Cautionary Tale | Sarah Rosenthal
What We're Watching: Catfish
Best Frenemies Forever
MUSIC
Queen Shit: Lil' Kim Celebrates 25 Years As Rap's OG Doll | Fullamusu Bangura
What We're Listening To: Death, Sex & Money
In the Thick Is a Politics Podcast for Everyone
Spring 2021 issue.