Home / Store / Zines / Butchfag: More Reflections On Queer Shame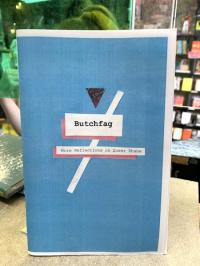 Butchfag: More Reflections On Queer Shame
8.5"x5.5", 48p, color, stapled
$7.00
Rena says:
A stand-alone sequel to "An Antidote: Reflections on Queer Shame", this zine traces the shards and aftermath of a break-up with an "ex non-boyfriend", defining the often invisible identity "butchfag", and explores the feelings of shame specific to queer transmasculine desire for men and masculinity. Deeply personal and honest, "Butchfag: More Reflections on Queer Shame" paints a portrait of the pain of relationships that languish without ever being named and dreams of a world in which our lovers do not hate themselves for loving us.
This 48-page zine contains personal writings, comics, drawings, snippits, and scraps from the sketchbook of its author.
"I want better for us, all of us. For the boys who love us, are intoxicated by our sexy ambiguity and genderfuckery, the way that butchfags can control a room, seem more significant and specific than almost anyone you've met. The way we're gentle and powerful all at once. And I want better for us, who have often settled for romances that cannot ever be called what they are, must languish without ever being named, and live long stretches of time without sex or love on our terms, the way we want it according to our wild, splendid dreams. We don't have to believe that we're the problem anymore."
---
More by Rena Yehuda Newman