Home / Store / Gifts / CRASS - Gig Poster 1000 piece jigsaw puzzle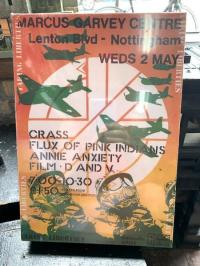 CRASS - Gig Poster 1000 piece jigsaw puzzle
Published by Anarchopuzzles
69cmx48 cm box, 1000 jigsaw pieces
$30.00
A fantastic piece of punk history, a Crass Gig Poster from Notttingham 1984 here in 1000 Piece puzzle form from our friends at AnarchoPuzzles in the UK.
Artwork by Persons Unknown.
*WE HAVE TO CHARGE TAX IF YOU'RE IN ILLINOIS. OUR WEBSITE ISN'T SET UP TO DO IT. APOLOGIES. IT IS 10.25%, WHICH ON THIS BOOK IS $3.08.