Home / Store / Zines / Flashland #1.4 Abusive Relationships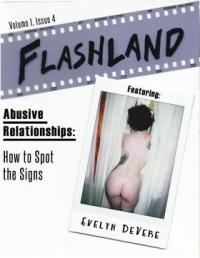 Flashland #1.4 Abusive Relationships
Single sheet fold out, 4.25"x5"5 when folded, Full size 11"x17" sheet.
$8.00
A zine dedicated to beautiful bodies and news you can use. A bimonthly publication featuring uncensored film photography of a coverperson, an interview with them, and an article with information relevant to our modern age. Folds out into an 11" x 17" centerfold--put it on your wall! Available in print only.
Volume 1, Issue 4 features... yours truly, Evelyn DeVere! Burlesque performer, seamstress, and photographer. See uncensored photos and hear a little bit about her creative process. Also includes an article about understanding domestic abuse.
---
More by Evelyn DeVere