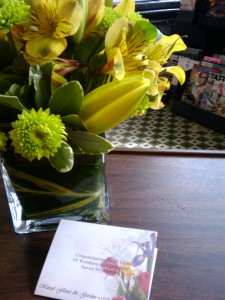 We're 20 years old today! Almost old enough to drink. Definitely old enough to cause some trouble.
Thanks to Original Quimby's founder Steven Svymbersky, all the way overseas in Amsterdam, who sent us these flowers with the card that says "Congratulations On 20 Years of Weirdness and Depravity!" We are proud to carry on two decades of mayhem!
Celebrate with us tonight at our event featuring Rebekah Mercuri reading from her book Weeding the Seeds of Deceit, her book of fiction closely based on her own experiences growing up in a catholic cult. 7pm.