Home / Store / Books / Scumbag For Hire vol 1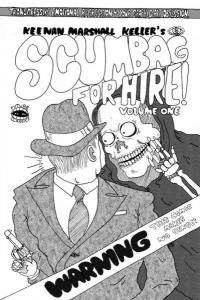 Scumbag For Hire vol 1
Published by Future Classics
6"x9", 176p, b+w, perfect bound
$15.00
From the co-creator/writer of The HUMANS (IMAGE Comics), creator/publisher of Galactic Breakdown (Drippy Bone Books) and a bunch of other shit you've haven't heard of, comes the existential nightmare in comic form you never knew you needed;
Scumbag For Hire, is set in the noir-ish world of a private detective whom encounters endlessly weird characters while working on absurdly surreal cases. Kafka-esque touches of paranoia and Lynchian dream logic mixed with the rough and "ugly but amazing" nature of the artwork, creates a tone not quite like any other comic on the stands....
It's a subconscious exploration into themes of identity, the bureaucracy of humanity, and the endless search for meaning within absurdist surroundings. Raw, weird, profane, and sometimes profound, this volume collects the first 3 issues in the series, plus a fourth never before published issue 4!
Volume One has over 160 pages of comics plus a pin-up gallery by a who's who of the weirdo comix elite! (Tom Neely, James Callahan, Alex Delaney, SKINNER, Benjamin Marra, Patrick Rooks, Pat Auliso, Josh Bayer, Shanna Matuszak, Marc J Palm, and Samuel "Rules" Clatterbuck!) plus additional back matter to make Volume One, 176 pages of SCUMBAG.
*WE HAVE TO CHARGE TAX IF YOU'RE IN ILLINOIS. OUR WEBSITE ISN'T SET UP TO DO IT. APOLOGIES. IT IS 10.25%, WHICH ON THIS BOOK IS $1.54.