Home / Store / Books / Electricity Is Her Element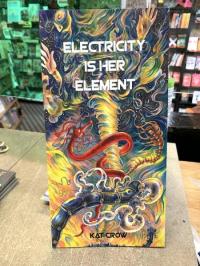 Electricity Is Her Element
by Kat Crow
46p, full color, perfect bound
$8.50
Recently reprinted indie comic featuring KerBop the Angel, defender of the solar system and lover of blueberries, and four cosmic dragons bent on restoring the supreme rule of Chaos.
Longtime and novice comic book lovers alike are certain to be entranced with the drama, adventure, and hope of Electricity is Her Element. This epic, uplifting journey takes us to the moon, Io, where four dragons from Jupiter convene outraged at the decline of Chaos in the universe. As their plot to return Chaos to its former glory within the universe unfurls, the author takes us on an ardent rollercoaster ride through the cosmos.
Vivid, original artwork creates a universe that stirs the imagination. Discover a hero's journey unlike any other with the original comic book, Electricity is Her Element.
• All ages appropriate
• Art created almost entirely using markers
• Includes Author's Note, Character Bios, and sketches
"Wow. One of the amazing things about Tapastic is that sometimes a story comes along that is truly inspired, and pushes the boundaries of what we expect comic books to be. Electricity is Her Element reads like a cosmic tale of Greek Mythology, inventing a new story to explain why the universe is the way it is. Thus far, the story is so incredibly stylish and confident that it could stand as the basis for a new religion. The potential of the story is so great that it could be timeless, immortal ... if enough people read it. The art is one-of-a-kind, the voices of the personified elements are specific and engaging, and the lettering is almost art by itself. I come from a family with a strong connection to its Native American heritage, and what I love most about this story is how reminiscent it is of the stories ancient cultures would tell around a bonfire. At the same time, there is an inherent sci-fi element to this comic that makes it distinctly modern. I can't wait to see how the tale unfolds -- Electricity is Her Element is a treasure."
-Donathin Frye, Donathin's Monthly Comic Spotlight
Four dragons from Jupiter convene on the moon Io, outraged at the decline of Chaos in the universe. Together, they plot the return of Chaos to its former glory, when this solar system was a spinning disk of dust.
*WE HAVE TO CHARGE TAX IF YOU'RE IN ILLINOIS. OUR WEBSITE ISN'T SET UP TO DO IT. APOLOGIES. IT IS 10.25%, WHICH ON THIS BOOK IS $.87.
---
More by Kat Crow