Home / Store / Zines / On the Grind: A Transmasculine Guide to Grindr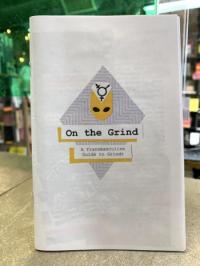 On the Grind: A Transmasculine Guide to Grindr
8.5"x5.5", 42p, color, stapled
$8.00
Rena says:
So you're transmasculine and want to get on Grindr. Maybe you've had a drought over the past year (or six), maybe you went on testosterone and your sexuality came alive in new ways. Maybe Tinder wasn't doing it for you, maybe you need something fresh, maybe you're curious, maybe you just want to get fucked. Maybe it's some, none, or all of the above. Either way, this zine is for you.
Written by Rena Yehuda Newman in the post-vaccination queer landscape of Summer 2021, this guide was created to help demystify the gay sex marketplace app known as Grindr. For many transmasculine people interested in queer sex with men, Grindr is intimidating and may feel impermeable. But this zine posits that the slutty nature of the app is exactly ripe for our own brand of sexual deviance. Transmasculine people are attractive and sexy unto ourselves, and it's high time we claim that place in the spotlight. "We belong on Grindr, and the more of us there are, the less scary it'll be." With this zine, Rena Yehuda hopes to empower other trans people to have the queer sex they've dreamed of, but were too afraid to seek out.
Filled with advice, sexy comics, personal anecdotes, safety tips, fantasies, erotica, and original queer theory, this zine provides an overview of what you can expect to find on Grindr, ideas for profiles, musings on texts and sexts -- and how to use the app for purposes of self-love and queer healing.
May we all get laid according to our wildest fantasies.
---
More by Rena Yehuda Newman