Home / Store / Books / Deschinga Tu Cerebro: Usando La Ciencia Para Superar Ansiedad, Depresión, Ira, Miedos Y Descadenantes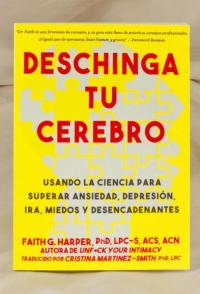 Deschinga Tu Cerebro: Usando La Ciencia Para Superar Ansiedad, Depresión, Ira, Miedos Y Descadenantes
by Faith G. Harper, PhD, LPC-S, ACS and ACN
Published by Microcosm Publishing
5"x7", 192p, paperback
$14.95
Spanish translation of the bestselling Unfuck Your Brain.
Nuestros cerebros están haciendo todo lo posible para ayudarnos, pero a veces pueden ser verdaderos imbéciles. A veces parece que tu propio cerebro está tratando de atraparte, alterándose en frente de todo el público, buscando pleito con tu pareja, volviéndote adicto a algo o congelándose por completo en los peores momentos posibles. Ya le dijiste a tu cerebro que en serio no es bueno hacer este tipo de cosas. Pero tu cerebro tiene una mente propia. Ahí es donde este libro llega a ser útil. Con humor, paciencia y muchas palabrotas, Dr. Faith te muestra la ciencia detrás de lo que está sucediendo en tu cráneo y te explica a través del proceso cómo reentrenar tu cerebro para responder adecuadamente a las cosas que no son de emergencia en la vida cotidiana. Si estás trabajando para lidiar con viejos traumas, depresión, ansiedad, enojo, dolor o adicción, o si solo quieres tener una respuesta más calmada y relajada a las situaciones que enfrentas todo el tiempo, este libro puede ayudarte a poner las piezas del rompecabezas juntas y recuperar tu vida y tu cerebro.
*WE HAVE TO CHARGE TAX IF YOU'RE IN ILLINOIS. OUR WEBSITE ISN'T SET UP TO DO IT. APOLOGIES. IT IS 10.25%, WHICH ON THIS BOOK IS $1.53.
---
More by Faith G. Harper, PhD, LPC-S, ACS and ACN