Home / Store / Books / Women on Wheels: The Scandalous Untold Histories of Women in Bicycling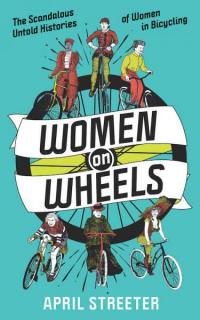 Women on Wheels: The Scandalous Untold Histories of Women in Bicycling
Published by Microcosm Publishing
4.5"x6", 198p, paperback
$16.95
A feminist bicycle history.
A feminist history of bicycling for sport and adventure spans a century of women who changed the world from two wheels. This vivacious tale, peppered with fascinating details from primary sources, shows how women were sometimes the stars of bicycle races and exhibitions, and other times had to overcome sexism, exclusion, and economic inequalities in order to ride. From the almost burlesque show races and creative performances of the 19th century to the evolution of cycling as a modern sport and form of transportation, April Streeter brings her exuberant eye for character, fashion, and story to convey the evolving emotional resonance of bicycling for women and their communities. She interweaves pedal-powered history with profiles of bicyclists who made their mark, like Katharine Hepburn, Annie Londonderry, Kittie Knox, Dorothy Lawrence, Louise Armaindo, and more.
*WE HAVE TO CHARGE TAX IF YOU'RE IN ILLINOIS. OUR WEBSITE ISN'T SET UP TO DO IT. APOLOGIES. IT IS 10.25%, WHICH ON THIS BOOK IS $1.74.