Home / Store / Books / Leopold: The See-Through Crumbpicker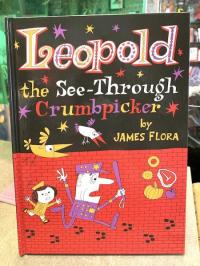 Leopold: The See-Through Crumbpicker
by James Flora
Published by Feral House
10.2"x7.5", 34p, 32 color & b+w illustrations on every page, hardcover
$17.95
Have you ever seen a See-Through Crumbpicker? Well, neither had Minerva! But, one day, eating yummy cookies and dropping lots of crumbs because her front teeth were missing, Leopold the See-Through Crumbpicker brushed by her and ate up all the crumbs. He sounded nice, and he felt warm and furry -- so even though she couldn't see him, they became fast friends. What could go wrong?
James Flora (1914-1998) was best known by adults for his wild jazz and classical album covers for Columbia Records (late 1940s) and RCA Victor (1950s). While children (and their caretakers) know that he authored and illustrated 17 popular children's books. Flora balanced a devilish sense of humor and a flair for juxtaposing playfulness, absurdity, and scariness into storybooks that kids and adults want to read over and over again.
*WE HAVE TO CHARGE TAX IF YOU'RE IN ILLINOIS. OUR WEBSITE ISN'T SET UP TO DO IT. APOLOGIES. IT IS 10.25%, WHICH ON THIS BOOK IS $1.84.