Home / Store / Books / Cheap Copies! The Obsolete! Press Guide to DIY Hectography, Mimeography & Spirit Duplication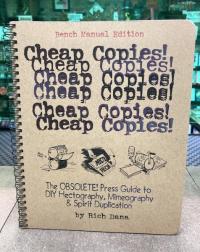 Cheap Copies! The Obsolete! Press Guide to DIY Hectography, Mimeography & Spirit Duplication
by Rich Dana
112p, 8"x10", spiralbound, color cover, color and b/w pages
$30.00
BONUS AWESOMENESS! Rich Dana created a special edition of Cheap Copies just for us that includes a very cool hectograph print of the Zine Club Chicago logo!!
From the publisher:
Before social media, there were cheap copies.
Did you ever wonder how artists and writers made zines and chapbooks before computers and photocopiers? This book is the culmination of over a decade of experiments, research, and tinkering with pre-digital duplication technology. It's a DIY guide that explains the history and how-to of the mimeograph, hectograph, and spirit duplicators that were used by the avant-garde, political radicals, wannabe publishers, low-brow artists, and -- perhaps most famously -- by early zine makers.
In addition to the how-to manual, the book is also a meditation on technology, highbrow vs lowbrow art, and rediscovering freedom in the non-digital world.
This book is packed with info, instructions, illustrations, and reference material that will help you get started printing zines, posters, flyers, stickers, and more, without fancy equipment or expensive supplies.
*WE HAVE TO CHARGE TAX IF YOU'RE IN ILLINOIS. OUR WEBSITE ISN'T SET UP TO DO IT. APOLOGIES. IT IS 10.25%, WHICH ON THIS BOOK IS $3.08.