Home / Store / Books / It Never Happened Again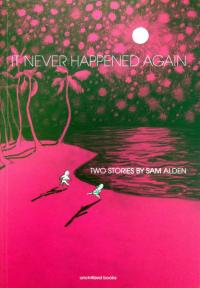 It Never Happened Again
by Sam Alden
Published by Uncivilized Books
162p, b&w, 5.25"x7.5"
$11.99
Two tales of isolation and longing by wunderkind, Sam Alden. Both stories are drawn in pencil sketches, but evoke very different moods.
"Hawaii 1997" has a frantic, dream-like energy, as a young boy (named Sam) is discovering the idea of love while on family vacation. The comic culminates in a dream-like chase that will last his entire life.
"Anime" is drawn in a heavier more, depressed mood. We feel trapped, if only we could get away from our surroundings, can we find ourselves? This story features an unrealistically short flight to Japan followed by a totally realistic drawing of the Tokyo subway-system map.
Read it.-nb