Home / Store / Books / Sweet Little Cunt: The Graphic Work of Julie Doucet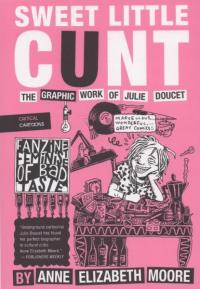 Sweet Little Cunt: The Graphic Work of Julie Doucet
Published by Uncivilized Books
5.25"x7.5", 214p, perfect-bound
$14.95
You'll like this book. Whether you're into comics or not, whether you're a Julie Doucet fan or not (and why wouldn't you be???), it's a snapshot of independent publishing culture, and like many missives by Anne Elizabeth Moore, this is a great book to educate yourself in the world of zines (and mini-comics, the zines of the comics world).
But oh! All that talk is framed through the lens of looking at the work and legacy of feminist comics icon Julie Doucet, who gained fame in the mid-1990s with her groundbreaking comics Dirty Plotte.
SLC is part of Uncivilized Books' series Critical Cartoons, composed of idiosyncratic and entertaining comics crit, and it's is written by the perfect journalist to do it: Anne Elizabeth Moore. She has a whole lot of experience thinking about comics (founder of the Best American Comics series, founding member of the Ladydrawers comics group and former editor of The Comics Journal). But as editor of The Chicago Reader, former editor of the now-defunct iconic Chicago-based Punk Planet magazine, as well as scores of other books and zines, Moore has experience writing about zine and comics culture, the legacy that which Doucet is based in.
This book is clearly written by a fan, since it's an articulate and enlightening look into Doucet's work;
Moore admitted during her event here for this book
that for many years she re-read
Dirty Plotte
weekly. But SLC isn't just a look at the world of Doucet's work, because in talking about Doucet it is necessary to talk about the experience of being a female artist immersed in a masculine-favoring arts culture, so that's part of Moore's book too. And of course, since this volume can't help but touch on the world of DIY and independent publishing, it talks the cultural DNA that feeds into that world (all stuff that if you shop at Quimby's you'll be familiar with): radical politics, riot grrrl, transgressive taste, D&Q, Kathy Acker, Chris Kraus, Lisa Carver, Last Gasp publishing, dream comics, genderbending, Renee French -- it's all there to relish. It's like having a discussion with your favorite most funnest most hippest college prof.
-LM
---
More by Anne Elizabeth Moore