Home / Store / Books / Conditioner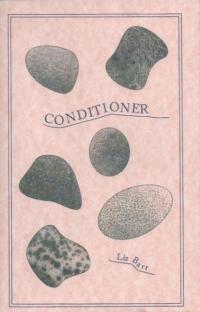 Conditioner
by Liz Barr
perfect bound, navy blue and forest green riso on peach marbled paper, 68p, 5"x7.5"
$18.00
Liz Barr's second publication with GenderFail, Conditioner, looks at how the skincare and wellness industries have grown to inhabit the role of more dated beauty expectations--how dewy skin and perfect-but-effortless no-makeup makeup a la Glossier still play the same part in controlling and subjugating women. but Barr comes to a more complex conclusion--though these industries are just that, industries, built on a constructed and reinforced image of impossible beauty (synonymous with femininity) women can still find worth in the ritual, gentleness, sensuality of skin-and self-care.
"I guess I want the same things women have wanted for generations. I want my body to be allowed to be ugly without consequences. I want to stop punishing my body. ... But I also want to decorate my body. ... I want to feel like I look good, but I don't want it to matter. I want to take care of my body the best I can, and I want to have fun while I'm doing it. I want my body to feel more like a gift and less like a burden."
dana
---
More by Liz Barr