Home / Store / Zines / Courtroom Artist Residency Report #13-16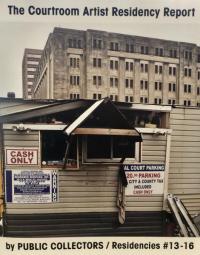 Courtroom Artist Residency Report #13-16
by Marc Fischer
Published by Public Collectors
40p, 7 in X 8.5 in, 2 color Riso inside, offset cover
$7.00
The fourth collection of reports from Public Collectors' meal-based artist residency that brings artists to observe Criminal Court in Chicago, followed by a meal and discussion.
For this residency program, artists and creative workers are invited to observe approximately three hours of court proceedings with Marc Fischer of Public Collectors at Cook County Criminal Court on 2650 S. California in Chicago. Following court, he treats the resident to a meal at Taqueria El Milagro on 3050 West 26th street in Little Village, where they talk about their observations over lunch. Each residency lasts approximately six hours including transportation within Chicago, to and from court. Each residency is also accompanied by a $20.00 donation to the Chicago Community Bond Fund (the approximate value of two meals at Taqueria El Milagro).
This Courtroom Artist Residency Report collects accounts of residencies #13-16. Featured in this booklet are discussions with Imani Elizabeth Jackson, Lucas Reif, Salome Chasnoff and Tom Burtonwood. Imani Elizabeth Jackson and I observe a judge that turns out to be the same man that is hearing her brother's ongoing court case. With Lucas Reif we get to experience an evacuation drill that forces everyone to stand outside of the court building in the rain, only to have to pass through the metal detector a second time when it's over. When we return to court we walk into the beginning of a trial for a defendant that tried to hire a man named "Big Moe" to murder the judge and prosecutor that were hearing his previous case. "Big Moe" turns out to be a cop and when Lucas researches the defendant after we get home from his residency, we have a whole new discussion that prompts an additional piece of writing. Salome and I observe two important hearings: one for Gerald Reed who remains locked up after nearly three decades for confessing to a crime he didn't commit after being coerced by detectives using torture. We also observe a hearing for a CPD officer who is charged with sexually assaulting a man who was on suicide watch. Finally, Tom Burtonwood and I observe three courtrooms which Tom draws and turns into a composite of the trio. Over lunch we discuss the architecture and material qualities of these spaces.
The Courtroom Artist Residency extends from the Public Collectors Joong Boo Residency Program. From 2016-18, that previous residency provided Korean lunch to 38 artist residents at Joong Boo Market in Chicago's Avondale neighborhood. That project is detailed in the publication The Meal-Based Artist Residency Program, published by Public Collectors in August, 2018.
---
More by Marc Fischer