Home / Store / Books / Seeds and Stems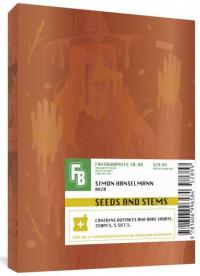 Seeds and Stems
Published by Fantagraphics Books
5.5" x 7.5", 360p, softcover
$34.99
Seeds and Stems is a spectacular omnibus of never-before-collected Megg, Mogg & Owl shorts, and more! Since 2014, Simon Hanselmann has established himself as one of the first rank storytellers of our time with his four graphic novels about the funny and poignant lives of Megg, Mogg and Owl: Megahex (2014), Megg and Mogg in Amsterdam (2016), One More Year (2017), and Bad Gateway (2019). Hanselmann's cast of characters, the depressive Megg (a green-skinned witch), her abusive boyfriend, Mogg (an actual cat), their submissive roommate, Owl (a vaguely humanoid owl), and the self-destructively hedonistic Werewolf Jones (half human, half wolf), brilliantly exist within the archetypes of the multi-camera sitcom, yet their stories brim with exceptional pathos and insight. In early 2016, Hanselmann moved to the USA from Australia and began producing xeroxed zines at a steady clip as a means to survive. Runs of 300 to 500 copies, sold online, with hand-painted covers, custom stamps and hologram security stickers. Usually created under duress, these zines often possessed an air of desperate urgency. Small explosions of concentrated, manic creativity harnessed as product. Seeds and Stems collects all of these out of print, self-published stories produced by the artist between 2016 through 2019, along with a generous smattering of rarities from various anthologies and magazines. Megg and Mogg and friends explore the worlds of lucid dreaming, banking scams, cinema, mixed drinks, alien invasion, and budget vasectomies in this varied collection of rare and often experimental Megg and Mogg adventures, designed and curated entirely by the artist. To capture the authentically seedy look of a prescription bottle, Hanselmann's hand-painted cover is wrapped in a transparent orange acetate jacket.
All of the pre-signed bookplates have been spoken for! (As previously mentioned, supplies were limited.)
*WE HAVE TO CHARGE TAX IF YOU'RE IN ILLINOIS. OUR WEBSITE ISN'T SET UP TO DO IT. APOLOGIES. IT IS 10.25%, WHICH ON THIS BOOK IS $3.07.
---
More by Simon Hanselmann