Fabulous new things available this week including new issues of Proximity and Lady Churchill's Rosebud Wristlet, 33 1/3 series books about Radiohead's Kid A and Slint's Spiderland, outer limits books about extraterrestrials and Atlantis, and more!
ZINES!
Son of Bing Short Stories by Dan Gleason $2.00
Spacenipple The Strange Retractions of Orbiting by Virginia Visker with help from Josh Doster $6.00 – Weirdo collage.
Toucan #9 win 10 $3.00
KerBloom #87 by ArtNoose $2.00
I Want To Tell You About Some Events by Jarrett Mitchell $6.00
When the Crash Meets Something Solid #3 A Shotgun Named Ambition by Gabrielle Congrave $3.00
Rise and Fall: A Concertina of Life by Micah Lidberg (Adhouse) $16.00
Letters I Will Never Send To You #6 The Longest August by Morgan Inez $3.00
Yizkor by Amara Leipzig $6.00
Robert Walser Literary Hero by Brian Allnutt $1.75
Shiny Things on the Ground #1 by Brandt Schmitz $2.00
COMICS & MINICOMICS!
Banana Slug by Leslie Perrine $2.00
Milk and Moo BY Yumi Sakugawa (Sparkplug) $5.00
Study Group 12 #4 (Sparkplug) $20.00 – A great anthology with a ton of artists, edited by Zack Soto. Colorful stories and illustrations from T Edward Bak, Chris Cilla, Farel Dalrymple, Vanessa Davis, Amy Kuttab, Blaise Larmee, Tom Neely and more!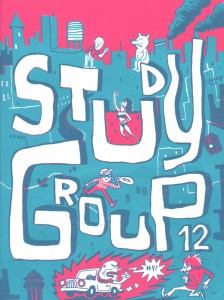 Tel Tales #1 Cut Lines and Intricate Minds by Don Toots Zettwoch and Dan Zettwoch (Sparkplug) $3.00
Pood #2 $4.00
Fathers and Wolves #1 by Sophie Goldstein $4.00
Spotting Deer by Michael DeForge (Koyama) $5.00
C by Lizz Hickey $5.00
Taffy Hips #8 by Zara Messano by Gil Gentile $8.00
GRAPHIC NOVELS & TRADE PAPERBACKS!
Bigfoot by Pascal Girard (D&Q) $19.95
Unexplored Worlds Steve Ditko Archives vol 2 (Fantagraphics) $39.99
Graphic Cosmogony: 24 Artists Take on 7 Pages to Tell Their Tales of the Creation (Adhouse) $38.00
Too Much Crazy by Tom Tomorrow (Soft Skull) $14.95
DIY & CONSUMPTION!
Singing To the Plants: A Guide to Mestizo Shamanism in the Upper Amazon by Stephan V Beyer (UofNM) $29.99 – Planning a trip?
FICTION!
Fiction at Work Biannual Report (Green Lantern)  $10.00
Fever Chart by Bill Cotter (McSweeney's) $14.00 – Now in soft cover.
MAGAZINES!
Proximity #8 Education As Art $12.00
Yeti #10 $11.95
Tokion Factory Art of Beauty Issue $3.99
High Times Feb 11 $5.99
In These Times Dec 10 $3.50
Progressive Dec 10 Jan 11 $4.95
Big Takeover #67 $5.99
Shindig vol 2 #19 Nov Dec 10 $9.99
Sneaker Freaker #19 $13.99
RFD #144 $9.95
LITERARY JOURNALS & CHAP BOOKS!
Lady Churchills Rosebud Wristlet #26 Dec 10 $5.00
POLTICS & REVOLUTION!
Essential Works of Lenin: What Is to be Done and Other Writings (Dover) $12.95
Signs of Change Social Movement Cultures 1960s to Now – Exit Art (Serpents Tale) by Dara Greenwald and Josh MacPhee $28.95
Outsider: My Quest for Justice by Adam Delgado $10.00
MUSIC BOOKS!
Cheetah Chrome A Dead Boys Tale from the Front Lines of Punk Rock by Cheetah Chrome (Voyageur) $24.00
White Bicycles Making Music in the 1960s by Joe Boyd (Serpents Tale) $14.95
I Slept With Joey Ramone: A Punk Rock Family Memoir by Mickey Leigh with Legs McNeil (Touchstone) $15.99 – Now in soft cover.
Kraftwerk Music Non Stop by Sean Albiez and David Pattie (Continuum) $24.95
33 1/2 Series: Slint's Spiderland by Scott Tennent (Continuum) $12.95
33 1/2 Series: Radiohead's Kid A by Marvin Lin (Continuum) $12.95
MAYHEM, MISCELLANY & OUTER LIMITS
Atlantis and the Cycles of Time: Prophecies, Traditions and Occult Revelations by Joscelyn Godwin (Inner Traditions) $19.95
Secret History of Extraterrestrials: Advanced Technology and The Coming New Race by Len Kasten (Bear) $18.00
Wisconsin Death Trip by Michael Lesy (U of NM) $34.95 – Back in stock!
Bento Bestiary by Ben Newman and Scott Donsaldson (Adhouse) $20.00
My Year of Flops: One Mans Journey Deep Into the Heart of Cinematic Failure by Nathan Rabin (S&S) $15.00
Sleepwalk With Me and Other Painfully True Stories by Mike Birbiglia (S&S) $24.00
OTHER STUFF!
30 Zombie Temporary Tattoos by Mitch O'Connell (Chronicle) $9.95
LaPorte Indiana DVD $20.00 – You loved the book. Now enjoy the movie!
Underground Multiplex Mix DVD by Joseph Lewis $15.00