Ooo la la! So much cool stuff we're bursting out of our lederhosen. A new issue of Wholphin, Show Me the Money, new comics from Lisa Hanawalt and Matt Furie, the Gaylord Phoenix graphic novel, the new Achewood book and more! Details below.
ZINES!
Show Me The Money #33 $2.50 – Still going!
So Me and You Are Reading This Zine #3 and You're All Like Whoa This Is Great by Justin Michael Valmassoi $3.00
Lean Mean Teen Machine #1  $1.00 – A zine by local preteens!
School #2 Women and Japanese Culture $12.00
Cryptozoology: A Pragmatists Guide $6.00 – The cutest crptozoology guide you'll ever read.
Christmas Dream by C. Uphues $1.00
Life During Wartime #9 CD Audio Zine: The True Story of Finding a Lost Velvet Underground Acetate At A Yard Sale $5.00
Tales of the Unexplained by Aaron Manczyk $4.00
COMICS & MINICOMICS!
I Want You #2 by Lisa Hanawalt (Pigeon Press) $6.95
Boys Club #4 by Matt Furie (Pigeon Press) $6.00
Elf World vol 2 #1 ed. by Francois Vigneault (Family Style) $6.00 – With comics from Grant Reynolds, Alec Longstreth, Dash Shaw, Sammy Harkham and more!
It's a Wonderful Strife by Nick Drnaso $5.00
RASL #9 by Jeff Smith $3.50
I Don't Understand Farming #4 $.75
I Heart Cereal by Tony Rabit $1.00
Chili Dog Dad by Hazel Newlevant $4.00
Yellow Comics #1 by Erik Schneider $2.00
Malaise Trap by Jack Bracken and Reid Psaltis $3.00
Carry On Carrion – A Crow Funeral by Reid Psaltis $4.00
Cycling: A Guide to Menstruation by Laura Szumowski $12.95 – Are you there, God? It's me, a cool comic about getting my period.
Chronicles of Edgebright and Leofwyn #2 by Jim Terry $3.00
Lets Fuck Like We Haven't Been Married For the Last 40 Years by Aaron Manczyk $3.00 – Have you seen that documentary The Lifestyle? This book is sorta a lot like that movie, only less potluck dinners. -EF
GRAPHIC NOVELS & TRADE PAPERBACKS!
Gaylord Phoenix by Edie Fake (Secret Acres) $17.95 – By or Edie! Maybe if yer nice he'll sign it for you if he's working. Celebrate the release of it here at Quimby's on 12/9 and 7pm!
Achewood vol 3 A Home For Scared People by Chris Onstad (Dark Horse) $16.99
Rise of the American Comics Artist Creators and Contexts by Williams and Lyons (U of Miss) $28.00
Fables vol 14 Witches by Bill Willingham etc. (Vertigo) $17.99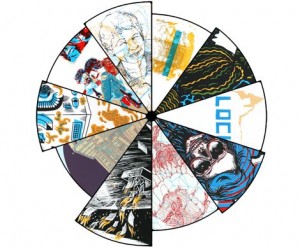 ART & DESIGN BOOKS!

Ten x Ten: A Collaboration Between Chicago Bands and Printmakers (Spudnik Press/Homeroom) $30.00 – A suite of ten fine art prints by Chicago artists to accompany ten songs of exclusive tracks by Chicago bands. Includes 10″ x 10″, 3-color prints and a super special secret code to download the songs. Songs by Locks, Max Alexander, The Late Model Races, Strictly Jug Nuts, Sky Event, Netherfriends, Nones, Christine Kick and Jason Adasiewicz. Prints by Dee Clements, Sanya Glisic, Kathleen Judge, Angee Lennard, Onsmith, Colin Palombi, Joey Potts, Grant Reynolds, Tom Smith and Sonnenzimmer. Perhaps this image featuring some of the art will wet yer whistle?
Fontology Free Fonts Source Book (Promo Press) $34.95
Private Zone Sketchbook by Stu Mead $40.00
DIY & CONSUMPTION!
Soil Mates: Companion Planting For Your Vegetable Garden by Sara Alway (Quirk) $16.95
FICTION!
Tales of The Bagman – A New Pulp Hero In Old Chicago by BC Bell $21.95
City of the Gods – Return of Quetzalcoatl by Patrick Garone $15.00
MAGAZINES!
Wax Poetics #44 Nov Dec 10 $9.99
Mojo #206 Jan 11 $9.99
Monocle vol 4 #39 Dec 10 Jan 11 $10.00
Fortean Times #269 Jan 11 $11.99
LITERARY JOURNALS & CHAP BOOKS!
10 Love Poems by Jason Sturner $5.00
CHILDRENS BOOKS!
Sometimes the Spoon Runs Away With Another Spoon Coloring Book by Jacinta Bunnell and Nathaniel Kusinitz (PM Press) $10.00
Struwwelpeter Or Pretty Stories and Funny Pictures by Heinrich Hoffman (Pavilion) $14.99 – Wanna give your kid some nightmares? Here's your chance.
POLTICS & REVOLUTION!
Farm Together Now: A Portrait of People Places and Ideas for a New Food Movement by Amy Franceschini, Daniel Tucker and Anne Hamersky (Chronicle) $27.50 – Dan Tucker of local free newspaper AREA and friends.
Renegade History of the United States by Thaddeus Russell (Free Press) $27.00
Blowing Smoke: Why The Right Keeps Serving up Whack Job Fantasies About The Plot by Michael Wolraich (Da Capo) $25.00
MUSIC BOOKS!
Mosh Potatoes: Recipes Anecdotes and Mayhem From the Heavyweights of Heavy Metal by Steve Seabury (AtriA) $15.00 – Recipes from Zakk Wylde, Lemmy, Guns & Roses, Lamb of God, Moth Eater, Shadows Fall, Anthrax, Testament, Overkill, Pantera and more. Hilarious and delicious. With an introduction by Chef Luke Tobias from Kumas's Corner here in Chicago!
MAYHEM & MISCELLANY!
Neo Bohemia: Art and Commerce In the Postindustrial City Second Edition by Richard Lloyd (Routledge) $34.95 – About Wicker Park! Now with updated info. Maybe pair it with the Hipster Mustache ($4.00)and What Was the Hipster?: A Sociological Investigation ($10.00). Now with more skinny jeans.
OTHER STUFF!
Wholphin #12 DVD $19.95
Stinckers 3 Pack Stickers by World Famous Cartoonists $3.00 – Stickers by Johnny Ryan, Esther Pearl Watson, MATS!? and more.
Typewriter Animals Calendar 2011 by Nathan Veach $6.00
2011 Never Sleeping Calendar Poster Antler Boy by Ben Chlapek $15.00
Snake Goddess Print by Ariyana Suvarnasuddhi $5.00
Gift To Winter DVD: The Story of the Winter Solstice Puppet Collective $10.00