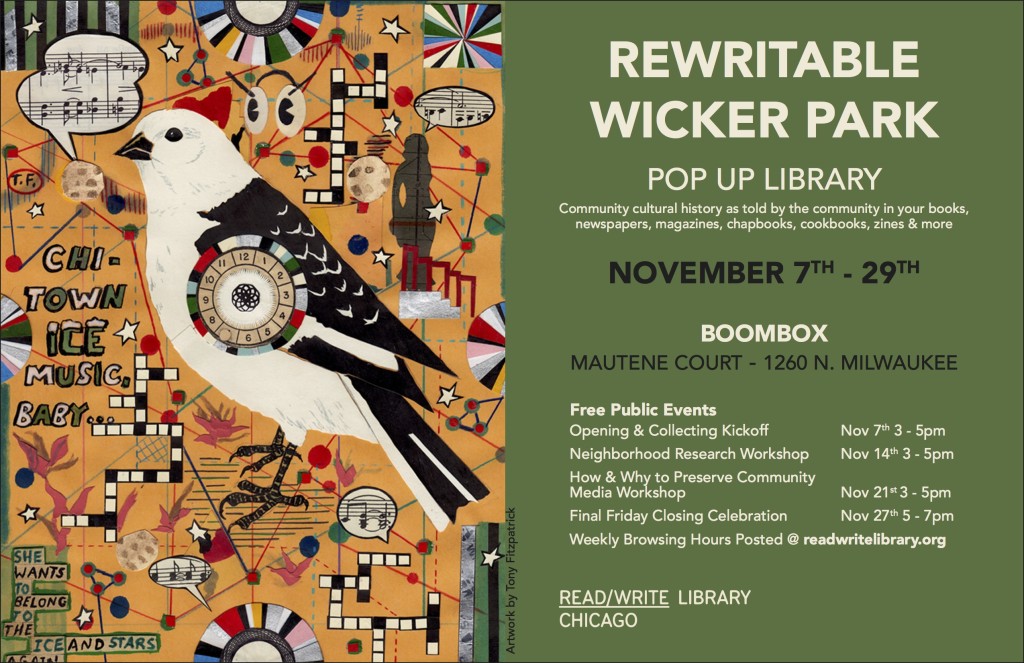 Read/Write Library will be hosting a month-long Pop Up Library as part of the City's new Activate! initiative in partnership with Latent Design: http://www.activate-chi.org/boombox/.
Drop your zine or comic off at Quimby's for it and we'll pass it along!
Throughout November, community members will continuously rewrite the cultural history of Wicker Park by adding their stories and publications to the shelves, as well as learn how to uncover and document their histories through public programs.
The goal in all Read/Write Pop Up Libraries is to connect community members across cultural and generational lines, making their histories visible and helping to make cultural participation more accessible. Read/Write Library is currently the only library of its kind in the world.
You can find full details here: http://readwritelibrary.org/rewritable-wicker-park-pop-up-november-2015
And a Facebook event here: https://www.facebook.com/events/1724108804486364/
Info as per the Read/Write site:
Rewritable Wicker Park is a month-long Pop Up Library and public program series that will showcase and connect the cultural contributions that generations of community members have made to establish the neighborhood as an internationally recognized creative engine. By adding the stories of their organizations, families, galleries, publications, parishes, classrooms, theaters, neighbors and more to the Library's shelves throughout the month of November, community members both past and present will come together to craft the historical and cultural narrative of one the city's most dynamic areas.
This Pop Up Library will be the first resident in the new Boombox kiosk on Milwaukee Avenue's Mautene Court, part of Activate! Chicago's programs for bringing public plazas to life through culture and entrepreneurship. It will be the largest Pop Up Library to date for Read/Write Library as the nonprofit approaches its 10-year anniversary in February 2016.
Beginning with media drawn from the collections of Read/Write Library and neighborhood organizations, the Pop Up Library will feature a diverse array of publications including decades of community newspapers, artist books, music and culture magazines, poetry chapbooks, comics, zines, family memoirs, handbills, community plans, and more — representing Wicker Park's history through the first person, creative expressions of those who have lived, worked, and studied here.
Reflecting the interconnectedness of neighborhoods in the West Town community area, the Pop Up Library will welcome Library contributors to determine their own relationship to and definition of the neighborhood as it intersects with Bucktown, Humboldt Park, Noble Square, Ukrainian Village, West Town, and other areas.
Public Events
The Pop Up Library will be open during regular browsing and reading hours (to be posted on readwritelibrary.org), and will host public events and workshops each weekend. Food trucks will have warm food and drink for purchase at each event. All events are free and welcome to all ages.
• Opening & Collection Kickoff — Saturday, November 7th 3-5pm
Performances, readings, storytelling, and interactive neighborhood history discussion.
• Neighborhood Research & Documentation — Saturday, November 14th 3-5pm
Workshop to learn fun and useful techniques for discovering the history of your neighborhood through interviews, research at community institutions, and making connections with your neighbors and local businesses.
• How and Why to Preserve Your Family & Community Media
Saturday, November 21st 3-5pm
Hands-on workshop to learn about saving the documents of our past (and present).
• Final Friday Celebration — November 27th — 5-7pm
Activate!, Read/Write Library and partner organizations present closing performances for Rewritable Wicker Park.
ABOUT THE ORGANIZERS
WHAT IS READ/WRITE LIBRARY?
Read/Write Library invites you to rewrite your city's history by putting your story on the shelf. In our public Humboldt Park location, neighborhood Pop Up Libraries, and workshops, we use community media to highlight a region's creative and political interdependencies, creating a visible network of primary sources that make cultural participation accessible and honor the contributions of all of Chicagoans. Formerly Chicago Underground Library, Read/Write Library will celebrate our 10th anniversary in 2016. www.readwritelibrary.org | @TheChibrary
WHAT IS ACTIVATE?
Activate! Chicago is a new initiative from the City of Chicago in partnership with Latent Design that transforms underutilized public plazas into cultural and economic catalysts.
Activate! will curate unique cultural experiences in neighborhoods across Chicago. This is a multi- faceted approach to the planning, design and management of public spaces. Capitalizing on a local community's assets, inspiration and potential, placemaking creates public spaces that promote people's health happiness, and economic well-being. www.activate-chi.org | #ActivateChi
WHAT IS BOOMBOX?
Boombox is a prefabricated micro retail kiosk installed in high volume public spaces to provide short term pop up retail opportunities for local entrepreneurs and community activators.
Boombox combines the successful features of pop-up shops and festival booths. It provides innovative transitional retail spaces at affordable weekly rates. This exceptionally designed space will become an iconic attraction that will rival coveted storefront locations without the capital commitment.
#Boombox
WHAT IS FINAL FRIDAY?
Final Friday is our signature event series bringing small and large scale performances to select sites across the city. We curate work in partnership with our community partners that is provocative, hilarious, emotional, but never typical to break the routine with a moment of reflection and wonder. #FinalFri
WHO IS LATENT DESIGN?
Latent Design specializes in ideation, strategy, and execution of scalable and highly experiential architecture and urban design. Our participatory approach to design creates new social impact systems by leveraging creative disruption in our urban environments.www.latentdesign.net @latent_design