Monthly Archive for April, 2008
Page 2 of 5
We got all the books you need for the high holidays.
New Stuff Apr 19th 2008
Meet Luke the mind behind YOU and zinster Dave Roche the author of On Subbing: the First Four Years at Quimby's

Luke is the mind behind YOU a free weekly zine from Melbourne. Every week since 2001, YOU has arrived usually taking the form of a handwritten letter sealed with staples in a paper bag. Issues of YOU are distributed for free in culture and books shops around the globe. YOU is now the subject of a zine anthology YOU: some letters from the first five years.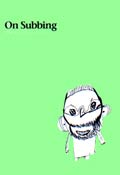 Dave Roche is the author of On Subbing: the First Four Years. The book contains his tales of woe from working as an substitute education assistant in Portland's school system. He helps kids who can't function in normal classrooms focus on their work and keeps kids from fighting while they tease him or adorably flirt with him.  It's a rewritten "best of" collection from issues #1-4 (The stuff Dave isn't too embarrassed about) plus some extra stuff from his second to last year of Subbing.
Both authors will be on hand to read and sign books.
Join Liz Prince as she signs comics and answers questions at Quimby's
Liz Prince has been drawing comics ever since she was in 3rd grade, and her work has been published since 1994 when she began regularly contributing to the Santa Fe based zine Are We There Yet? From there, the offers didn't stop coming. Her comics have been featured in several zines/comic anthologies, 5 gallery shows, and she has produced 2 mini-comics. Influenced by autobiographical greats like Evan Dorkin, Ariel Schrag, James Kochalka, and Jeffrey Brown, her comics mix her real-life foibles with charming cartooning and comic timing. Her fans have described her work as being "cute," making them feel "warm & fuzzy," or simply being "too much information." Liz's first full length book Will You Still Love Me If I Wet the Bed? explores the banal and yet somehow fascinating intimacies of her first true love.
Delayed Replays, the second comics collection from Ignatz Award winner Liz Prince further explores how one incredibly self-centered twenty-something finds contentment in her everyday life. From the amusing to the banal, Liz's comics are slice-of-life at its best, or if not best, at least most relatable. These strips could easily find their home in many alternative weekly papers, but Liz is too lazy to post them anywhere but her live journal or her website.
The First Line, the most important (*) literary journal in the country, is celebrating ten years of killing trees and making the grammar gods cringe. Come meet the editors (and mascots), at Quimby's in Chicago. If you're lucky, Robin and David will read from the new anthology: The Best of The First Line, Editors' Picks: 2002-2006 (don't worry, you'll get lucky).
The purpose of The First Line is to jump start the imagination-to help writers break through the block that is the blank page. Each issue contains short stories that stem from a common first line; it also provides a forum for discussing favorite first lines in literature. The First Line is an exercise in creativity for writers and a chance for readers to see how many different directions we can take when we start from the same place.
(*) ten-year-old, Texas-based, 64-page, perfect bound, 8" x 5",
$3.00-a-copy, quarterly, unaffiliated, unfunded, unassuming, and far
from uninspiring
more info at: www.thefirstline.com