Hey look. Someone has a restaurant called Quimby's. Is their food delicious? It better be.

NEW STUFF!
ZINES & ZINE-RELATED BOOKS!
Truckface #14 by LB $3.00 – LB has been teaching secondary school and has plenty to say about it. Wise and heartfelt.
Drupe Fruits #1 Oct 10 $2.50
Tiptown by Edwin Perry $2.50
The Muse The News The Noose #8 Three Stories by John Wawrzaszek $1.00
Kilter #9 Fall 10 $5.00 – Another issue of the gothtastic Chicago-based zine.
Fanzines: The DIY Revolution by Teal Triggs (Chronicle) $40.00 – Huge and beautiful, with shout outs to some of the zines you may have bought here.
Snake Histories #1 by Priyanka Pandit $10.00
12 Records Ta Shake Your Ass To $2.00
Three Zines #1 and #2 $5.00/$15.00
I Just Dont Know What to Do With Myself: A Series of Rants by Mia Beatrice $1.00

COMICS & MINICOMICS!
Back That Fact Up Amazing Facts and Beyond Collection III by Leon Beyond (aka Kevin Huizenga and Dan Zettwoch) $5.00
Ouroboros by Ben Newman (Spiro) $13.50
Abecederia by Blexbolex (Spirow) $16.50
Diary Comics #1 Jan-Jun 10 by Dustin Harbin (Koyama) $6.00
Birds And Wolves Excerpt by Ian McDuffie $3.00
There Is A Mountain Starring Donovan by Joe Schorgl $1.00
Snap Shots by Rhett Brinkley by and Phillip Huddleston $4.00
New Growing Antlers by Michael Inscoe and Phillip Huddleston $4.00
Womanimalistic #1 by Caroline Paquita $5.00
Late Era Clash #22 Featuring Big Baby Man by Mike Taylor by Sam McPheeters $4.00
Ultimate Burnout Dad #1 Oct 10 by var. $2.50
Beer In Blood Out by Tony Rabit $1.00 – Dainty but angry and sad inanimate objects and animals.
Seafaring by Tiffanie Bui by Sophie McMahan $7.00
GRAPHIC NOVELS & TRADE PAPERBACKS!
Footnotes in Gaza by Joe Sacco (Metropolit) $23.00 – Now in soft cover.
Duncan the Wonder Dog Show 1 by Adam Hines (Adhouse) $24.95
Digested #2 by Bobby N. $5.00 – Bobby N. may be Ken Dahl's secret Australian identity- there's a lot of similar style moves and snapping point anxieties here. Finesse in the face of inadequacy?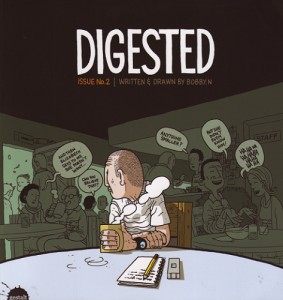 Hellboy vol 11: Masks and Monsters… by Mike Mignola etc. (Dark Horse) $17.99
Dick Briefers Frankenstein: The Chilling Archives of Horror Comics by Craig Yoe (IDW) $21.99
Walking Dead Book Six HC by Kirkman etc. (Image) $39.99 – Collects issues #61-#72 TPB or graphic novel volumes 11 and 12.
Horror: The Horror Comic Books the Government Didn't Want You to Read ed. by var. (Abrams) $29.95
FICTION!
Squirrel Seeks Chipmunk by David Sedaris (LB) $21.99
STEAMPUNK!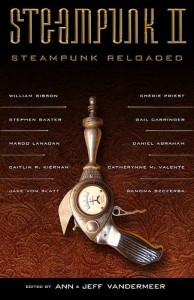 Steampunk II: Steampunk Reloaded ed. by Ann and Jeff Vandermeer (Tachyon) $14.95 – An anthology with work from William Gibson, Cherie Priest, Stephen Baxter, Margo Lanagan and more.
ART & DESIGN BOOKS!
Morph Traits by Daniel Higgs by Kyle Ranson (N&P) $18.00
Blab World #1 (Last Gasp) $24.95
Spirit City Toronto by Aaron Leighton (Koyama) $10.00
It Is Folly To Assume My Awesome Lies Dormant the Paintings of the Mincing Mocki by Matt Adrian $39.99
Herve Moran the Genius of French Poster Art (PIE) $35.00
Trespass a History of Uncommissioned Urban Art by var. (Wooster Collective/Taschen) $39.99
DIY & CONSUMPTION
The Acid Diaries: A Psychonauts Guide to the History and Use of LSD by Christopher Gray (Holloway) $16.95
The Pot Book A Complete Guide to Cannabis Its Role in Medicine Politics Science and Culture by Julie Holland MD (Park Street) $19.95
Official High Times Pot Smokers Activity Book by Natasha Lewin (Chronicle) $16.95
The Cuter Book by Aranzi Aronzo (Vertical) $14.95 – More intruction for making simple yet adorable felt animals. No sewing machine necessary. Just a few supplies they list in the front. Perfect for folks who less crafting and sewing experience.
The Home Physician – The Classic Edition of 1910, compiled by Rolfe Cobleigh (Burford) $12.95 – Reprinted from the 1910 original. Gives advice on how to handle such maladies as the whooping cough, leprosy, a cocaine habit and consumption. Definitely of interest to those who enjoy tonics, glycerin suppositories and lip salve. But we're not responsible if you die from some type of poisoning. -LM
MAGAZINES!
Maximumrocknroll #330 Part Two Nov 10 $4.00
Dwell Nov 10 $5.99
True Detective Sep 10 $4.99
Fantastic Man #12 $12.99
Gentlewoman #2 Fall Win 10 $10.95
Under the Radar #33 $4.99
Monocle vol 4 #37 Oct 10 $10.00
Social Anarchism #44 $6.00
Radical History Review Fall 10 $14.00
In These Times Oct 10 $3.50
Tabu Tattoo #43 $7.99
LITERARY JOURNALS & CHAP BOOKS
What Was The Hipster? – A Sociological Investigation: n+1 Research Branch Small Books Series #3 by n+1 etc. $10.00 – A text documenting a symposium discussion about the hipster: what exactly is/was one? Do/did they truly exist? Are there different types? These questions and more are discussed in this intelligent and humerous volume, which is more fun than acadmeic but more academic and self-aware than parody. Engaging. -LM
CHILDRENS!
Tales For Little Rebels: A Collection of Radical Childrens Literature, ed. by var. (NYU) $24.95
MUSIC BOOKS!
Record Store Days: From Vinyl to Digital and Back Again by var. (Sterling) $19.95 – A loving look at record stores around the country with the folks who own and run them. And Dusty Groove, one of the coolest record stores ever, which is down the street from us, they're in it too. Photos, anecdotes, memorabilia, interviews with well-known musicians about their first record store purchases and more.
Malevolent Melody by McBess $23.50
Anthology of Rap ed. by var. (Yale) $35.00
MUCKRAKING MEMOIRS & MISCELLANY!
Impossibly Funky: A Cashiers Du Cinemart Collection by Mike White etc. (Bear Manor) $24.95 – Don't miss Mike White here at Quimby's in December. Stay tuned for more details.
Anarchy Evolution: Faith, Science and Bad Religion in a World Without God by Greg Graffin and Steve Olson (Harper) $22.99 – Graffin is the lead singer of Bad Religion. He also has a PhD in zoology from Cornell University and teaches evolution at the UCLA. This edition of the book is a signed first edition. Yes, he ties in some Bad Religion lyrics and history into it too. My sixteen year old self would have memorized this and spewed it to people at Denny's. -LM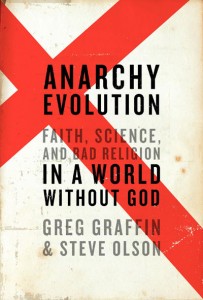 Archeology of Violence by Pierre Clastres (Semiot) $15.95
Bad Science: Quacks, Hacks and Big Pharma Flacks by Ben Goldacre (F&F) $15.00
A Book of Jean's Own by Jean Teasdale (SMP) $14.99 – The Onion presents all new wit, wisdom and wackiness from the Onion's beloved humor columnist.
Mirror Maze: A Norwegian Mans True Story of Five Years in Mexican Prison During the 1980s by Tom Brungar $12.95
Tinsel: A Search For Americas Christmas Past by Hank Stuever (Mariner) $14.95
SEX & SEXY!
Housewives at Play #19 by Rebecca (Eros) $4.95

OTHER STUFF!
Mini 2011 Caroline Paquita Calendar-Planner/Big 2011 Caroline Paquita Calendar $5.00/$12.00