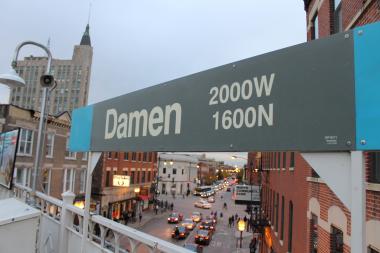 As a part of the Chicago Transit Authority's $494 million Your New Blue project, the California and Damen Blue Line stations will be temporary closed this autumn to complete major renovation work. From September 4 to October 16, the California station will be closed and the Damen station will be closed from October 20 until December 22. That's the blue line stop closest to Quimby's. The Western stop, which received a complete overhaul fifteen years ago, will remain open during the station improvements. Both the California and Damen stations were originally opened in 1895 and will receive both exterior and interior facelifts that will include new LED lighting, repairs to the floors and stairs, new bike racks and new artwork. In addition to the station improvements, the CTA believes that the upgrades will help alleviate congestion and improve overall service. During the California and Damen closures, the CTA will not offer free shuttle service like it did during the more recent weekend closures the Sun-Times is reporting. However, the CTA will run more buses along the #56 Milwaukee Ave. line during rush hour periods.
More info:
·California, Damen Blue Line stations to close for rehab [Sun-Times]
·Station, Track & Infrastructure Improvements [CTA]
Need to take public trans to Quimby's? You can take the North Ave #72 bus that gets off at Wolcott and we're right there!