Home / Store / Books / Quarantine Times 2020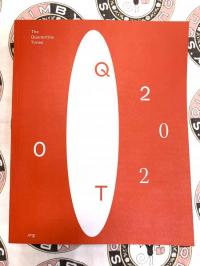 Quarantine Times 2020
by Public Media Institute and Various
Published by Public Media Institute
9"x11", 500p, full color, softcover
$45.00
After indefinitely postponing all events and exhibitions at @CoProsperityChicago and locking the door to WLPN's radio studio in the early stages of the Covid-19 pandemic in Chicago, Public Media Institute set out to document the crisis through the eyes and ears of Chicago-based artists, activists, educators, students, performers, chefs, entrepreneurs, musicians, and cultural workers.
On March 17, 2020, @the_quaranatinetimes started publishing the stories, songs, expressions, hopes and fears of over 250 artists. Now, almost exactly one year later, Public Media Institute (PMI) is thrilled to announce the publication of The Quarantine Times book on March 20, 2021.
The 500+ page tome features over 151 contributions from Chicago-based artists, social workers, and thinkers responding to the crises of 2020. Designed by award-winning designers Jeremiah Chiu and Itsayana Campo of @some_all_none.
Sales of the book benefit PMI's direct support of artists.
#QuarantineTimes #TakeCareBeWell
*WE HAVE TO CHARGE TAX IF YOU'RE IN ILLINOIS. OUR WEBSITE ISN'T SET UP TO DO IT. APOLOGIES. IT IS 10.25%, WHICH ON THIS BOOK IS $4.61.
---
More by Public Media Institute and Various