Home / Store / Gifts / Chris Ware "Building Stories" Jigsaw Puzzle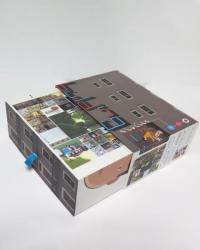 Chris Ware "Building Stories" Jigsaw Puzzle
by Chris Ware
Published by Press Pop
BOX Size: H20.5cmxW16cmxD8cm, Puzzle Size: H67.5cmxW49cm, Puzzle 1141 pieces
$50.00
A jigsaw puzzle of Building Stories by Chris Ware: a numerous awards and honors winning graphic novel masterpiece. The puzzle is an original "remixed" drawing of the work. The packaging box, in the form of a building, was originally drawn by the artist, and takes a pull out drawer style. Features, ORIGINAL UNIQUE PUZZLE PIECES made from original molds based on what Chris drew. A must have for Chris Ware and Building Stories' fans with surprises and newly added concepts.
ONE PUZZLE PER CUSTOMER PLEASE. THANK YOU!
*WE HAVE TO CHARGE TAX IF YOU'RE IN ILLINOIS. OUR WEBSITE ISN'T SET UP TO DO IT. APOLOGIES. IT IS 10.25%, WHICH ON THIS BOOK IS $5.13.
---
More by Chris Ware