Home / Store / Quimby's Schwag / Quimby's Bookstore Chris Ware Signage Print SIGNED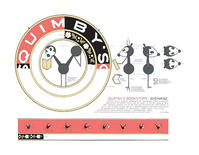 Quimby's Bookstore Chris Ware Signage Print SIGNED
by Chris Ware
Published by Quimby's Books
$100.00
This just in! We now have a limited quantity of our Quimby's signage prints SIGNED by Chris Ware, in a numbered edition of 100!
This is a five color silkscreen print of Chris Ware's meticulous blueprint for the sign that extends out from the front of Quimby's Bookstore. What sign, you say? Click here to see what we're talking about.
We wanted to do a print of Chris' work to offer our customers, and this was the image he suggested. We also knew that he had worked with Jay Ryan at The Bird Machine on prints in the past, so that was why we decided to work with the same printer.
This print is authorized by Mr. Ware. It measures 19" across and 13" high. It was hand-ripped as per his specifications. This print is an exclusive limited edition of 500, with 100 prints signed and numbered, made just for Quimby's to celebrate our 20th birthday.
Please note that the shipping of this poster may be more than the amount specified on your order when you check out because of its large size.
Click here for unsigned copies of the Quimby's Signage Print
Also! We have Quimby's t-shirts and totebags! Click here to find out more.
---
More by Chris Ware