Home / Store / Zines / Library Excavations #7 VHS R.I.P.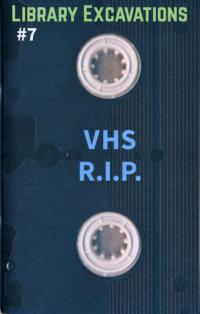 Library Excavations #7 VHS R.I.P.
by Marc Fischer
Published by Public Collectors
32p, 5.5"X8.5", Color offset cover and two-color Risograph pages, edition of 520
$6.00
Library Excavations #7 mourns and explores VHS tapes in the public library lending collection. In addition to text and photos from the collection and the discard piles, this booklet also contains reflections on the history of VHS at Chicago's Harold Washington Library Center by librarian Bob Sloane, and thoughts on the state of VHS relative to videos by artists from Abina Manning, the Director of Video Data Bank at the School of the Art Institute of Chicago.
---
More by Marc Fischer