Countdown 2.5 hours from this very moment: Jon "Metalion" Kristiansen and Tara G. Warrior Discuss METALION: The Slayer Mag Diaries.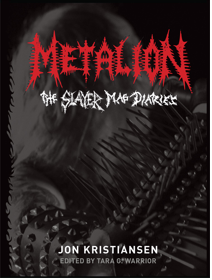 ZINES!
Purple Faced Man by John Minkoff $3.00
Refresh by Kristin Lucas, Joe McKay and Laura Parnes $5.00
Peehole #4 and Peehole #5: Weird Dreams by Jim Donaldson $2.00 each
You Made Devotion A Virtue #2 Sad Eyed Girl $2.00
Five Stories Published on a Printer #1 by Dustin Michael Edward Davenport $2.00
Atlas of Childhood #2: Zine About Childrens Books by Celia C Perez $2.00
I Dreamed I was Assertive #13 $2.00
Travesty #1 Musings On Being a Transvestite Metalhead Oct 09 $2.00 and #2 is $1.00
Blue Floral Gusset $1.00
All I Want Is Everything #1 by Caitlin Constantine $3.00
Strange Thoughts Drawings and Things by Marta Chudolinska $15.00
Dark Matter Dunkle Materie $20.00
Untitled Hands: Fired This Is It Searching For Bullet Holes by Marta Chudolinska $5.00
COMICS & MINI COMIX!
Plaid #2 (Sensational Second Issue) by Josh Lees $2.00
Plaid #3 (Thrashin Third Issue) by Josh Lees $2.00
Summer Daze #1 by Marta Chudolinska $4.00
Sad Luck #1 by Marta Chudolinska $10.00
Story of Your Life #1 by Marta Chudolinska $2.50
GRAPHIC NOVELS & TRADE PAPERBACKS!
Kick Ass TPB by Mark Millar and John Romita Jr. (Marvel) $19.99 – Back in print.
Revolver TPB by Matt Kindt (Vertigo) $19.99
ART & DESIGN BOOKS!
Henry at Home $20.00
DIY BOOKS!
Elements of Fucking Style: A Helpful Parody by Chris Baker and Jacob Hansen (SMP) $9.99
Mushrooms, Myth, and Mithras: The Drug Cult That Civilized Europe by Ruck, Hoffman + (Citylights) $23.95
FICTION!
Astounding The Amazing and The Unkown by Paul Malmont (Simon) $26.00 – From the author of Chinatown Death Cloud Peril.
True Things About Me by Deborah Kay Davies (Faber) $14.00
Jack Daniels Sessions EP: A Collection of Fantasies by Elwin Cotman $12.00
30 Under 30 An Anthology of Innovative Fiction by var. (Starcheron) $20.00
LITERARY JOURNALS, CHAP BOOKS & POETRY!
Logan Square Literary Review #7 Sum 11 $5.00
Versal #9 $14.95
Chapbook by Charles JR Bane AND Isabelle Pruneau $14.99
Cousin Corinnes Reminder #3 $14.00
MUCKRACKING, MEMOIRS, MAYHEM, MISCREANTS & MISCELLENOUSNESSESESNESS!
Encyclopaedia of Hell: An Invasion Manual for Demons, Concerning the Planet Earth amd the Human Race Which Infests It by Martin Olson, Tony Millionnaire, and Mahendra Singh (Feral House) $19.95
Chairs Are Where the People Go How to Live Work and Play in the City by Shelia Heti and Misha Glouberman (Faber) $13.00 – Misha Glouberman's friend and collaborator, Sheila Heti, wanted her next book to be a compilation of everything Misha knew. Together, they made a list of subjects. As Misha talked, Sheila typed. He talked about games, relationships, cities, negotiation, improvisation, Casablanca, conferences, and making friends. His subjects ranged from the sublime to the ridiculous. But sometimes what had seemed trivial began to seem important—and what had seemed important began to seem less so. Why does a computer last only three years? How often should you see your parents? How should we behave at parties? Is marriage getting easier? What can spam tell us about the world?
Did I Really Change My Underwear Every Day? One Geezers Handbook for Survival by Larry McCoy $14.95
POLITICS & REVOLUTION!
People Wasn't Made to Burn: The True Story of Race Murder and Justice in Chicago by Joe Allen (Haymarket) $22.95
Against Equality: Queer Critiques of Gay Marriage by Ryan Conrad and Yasmin Nair (Against Equality Press) $8.00
MAGAZINES!
Blood and Thunder #17 Womens Roller Derby Magazine $5.99
High Times Sep 11 $5.99
Diner Journal #18 Sum 11 $9.00
Reed Pages #00 $12.00
Reed Pages #01 $15.00
Mojo #213 Aug 11 $9.99
SEX & SEXY!
Thickness #1 ed. by Katie Skelly $10.00 – With contributions from Ryan Sands. Michael Deforge and more.