Monthly Archive for February, 2012
Page 2 of 4
Thanks to the nice folks of The Coffin Factory, who did a really nice write up about Quimby's.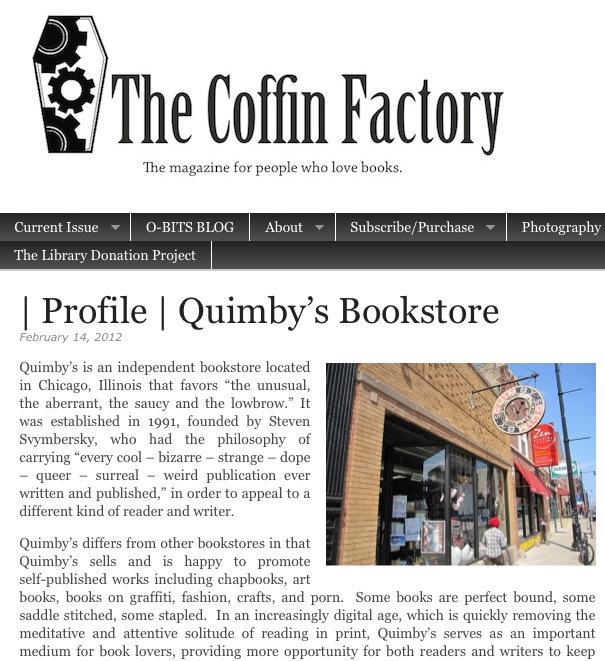 Click here to read the rest of the article.
1. The Chicagoan #1 $19.95 – 194p, color, no ads! Joining the literary-minded ranks of n+1, The Paris Review, The Believer and Lapham's Quarterly, and doing it with Midwestern flair, The Chicagoan ressurects a long defunct jazz-age magazine and focuses in on non-profit production, local distribution and general excellence in writing and design. The debut issue is a stunner, a cohesive and relevant blend of fiction, history, innovation, interviews and a 50-page oral history of Siskel and Ebert. -EF
2. Serial Killers Unite #9 $2.00 – Another dose of letters from incarcerated serial killers: sex rants from The Clairemont Killer, Cleophus Prince Jr, biblical advice from The Zodiac Copycat Killer, Heriberto Seda, a holiday card from The Spokane Killer, Robert Lee Yates Jr, specifics from Roy Norris, more bonkers Disney sex art from Jeremy Jones. Yes, of course it's creepy.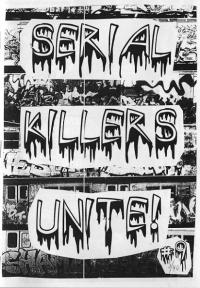 3. Juxtapoz #134 Mar 12 $5.99
4. Alone Forever by Liz Prince $4.00
5. Monocle vol 5 #50 Feb 12 $10.00
6. Exxxtinction: 1st Known Circle Jirk by Sy Loady $3.00 – Fuckasoreass Triceratopz.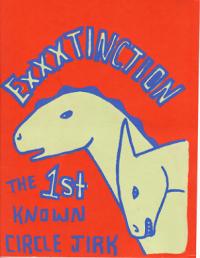 7. Boneshaker #43-100 A Bicycling Almanac (Wolverine Farm Publishing) $8.00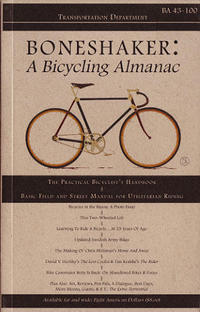 8. Call Of Cthulhu and Other Weird Stories by HP Lovecraft (Penguin) $17.00
9. Dazed & Confused vol 3 #6 Feb 12 $9.99
10. Super Friends #1 $3.00 – Beautiful assembly of found photos from a job at the thrift store. Butts, mutts and classic cuts!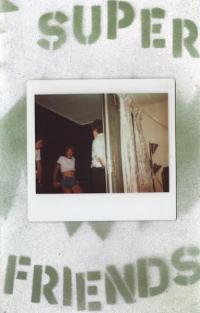 The Chicagoan #1 $19.95 – This issue marks the public (re)launch of The Chicagoan, a 194-page magazine with articles, artwork and photographs, and no advertising, with arts, culture, innovators and history of Chicago and its surroundings. Originally it was a magazine modeled after the New Yorker, and was published from June 1926 until April 1935. Right now it's only in a few locations in Chicago. We just got another stack of them after selling double digits in less than a week. Better hustle!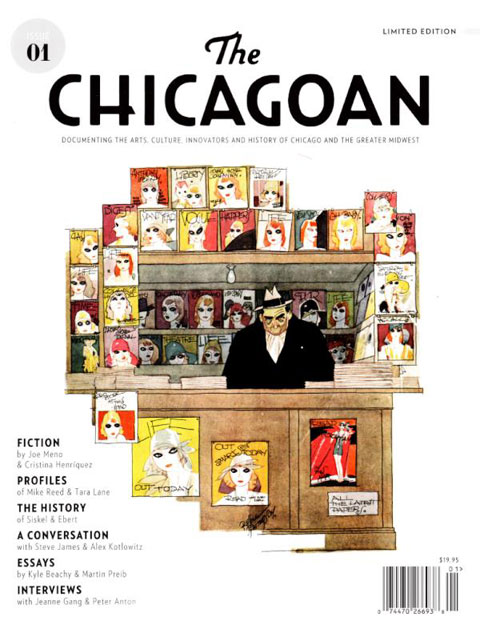 Zines & Zine-Related Books
19 Keep Hoping Machine Running by Julia #1 ($4.00), #2 ($5.00)
Cloud Factory #1 by Ryan Homsley and Laura Walker $4.00
One More For the People: A Somnambulist Collection by Martha Grover $16.00
Paint and Prints Crafty and Thrifty Fashions by M. Miller $10.00
KerBloom #94 Jan Feb 12 by Artnoose $2.00
Good News #1 – Brick Wall Breaks Silence…$3.00
Weirdo Du Jour by Krystle Ratticus $2.50 – A Chicago greasy spoon update, complete with coffee cup rim stain. Let's hear it for diners!
Rumlad #5 by Steve Larder $5.00
Comics & Comix
Eyeball Comix #3 $7.50
Robbie and Bobby TPB #1 by Jason Poland $15.00
various Caitlin Cass' Great Moments in Western Civilization
Art Appreciation vol 1 Old Guitarist by Kirsten Valentine $2.00
Three Brews vol 1 Meet the Brews by Karen Tinney $5.00
Graphic Novels & Trade Paperbacks
Is That All There Is by Joost Swarte (Fantagraphics) $35.00
Amazing Mysteries the Bill Everett Archives vol 1 by Bill Everett and Blake Bell (Fantagraphics) $39.99
My Friend Dahmer by Derf Backderf (Abrams) $17.95 – A fancy reissue but now with extra material. Derf was sort of friends with Dahmer in high school. An intimate look. Edie wrote a nice review of it on our website which you can read here (and order the book too).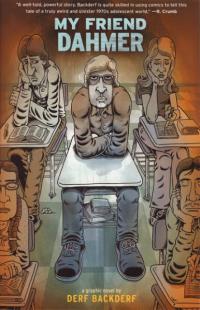 Regular Man TPB by Dina Kelberman $15.00
Goliath by Tom Gauld (D&Q) $19.95
Shuteye: Six Tales of Dreams and Dreamers by Sarah Becan $20.00 – We backed this on Kickstarter. Now we are excited to show you what we spent our bucks on! It's a beauty.
Astonishing X-Men Ultimate Collection vol 1 by Joss Whedon et. al (Marvel) $29.99 – Collects issues #1-#12.
Madwoman of the Sacred Heart by Jodorowsky and Moebius (Humanoids) $24.95
Kolor Klimax Nordic Comics Now (Fantagraphics) $29.99
Art & Design Books
Madness by Anna Rae Landsman $45.00
Fiction
Stone Animals by Kelly Link (Madras Press) $9.00 – This special edition of Kelly Link's 'Stone Animals' comes with a letterpressed cover (in blue or brown) and interior illustrations by a number of authors, artists, critics, and fans, including Lisa Brown, Lilli Carré, Anthony Doerr, Lev Grossman, Daniel Handler, Paul Hornschemeier, Ursula K. Le Guin, Laura Miller, Audrey Niffenegger, Tao Nyeu, Arthur Phillips, and Lane Smith."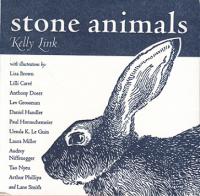 Man Who Danced With Dolls by Hannah Dela Cruz Abrams $7.00
Tales Told In Oz by Gregory Macguire (Madras) $8.00 – As in, from the guy who wrote the original book of Wicked, but this small 5″x5″ novella is a fundrasier, on a small independent publisher.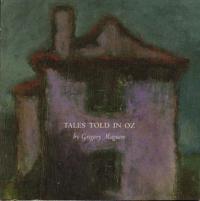 Human Soul As a Rube Goldberg Device by Kevin Brockmeier (Madras) $8.00 – From the author of the amazing Brief History Of The Dead and View From The Seventh Layer.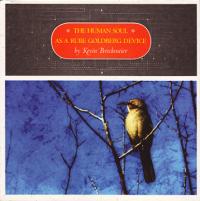 Mayhem, Miscreants, Memoirs & Misc
Six Fairy Tales From the Brothers Grimm, with illustrations by David Hockney $25.00
I Am The Market: How to Smuggle Cocaine by the Ton in Five Easy Lessons by Luca Rastello $13.00 – Perhaps this belongs in the DIY section? Har.
Mammoth Book of Conspiracies by Jon E. Lewis $13.95
Yeah No Totally by Lisa Wells $10.00
Revolution: The Year I Fell In Love and Went to Join the Sandinistas by Deb Olin Unferth (SMP) $14.99 – When the hard cover of this book came out, Deb Olin Unferth did a reading here at Quimby's. She was hilarious and poetic, and you can watch a short clip of it here on You Tube. Now this book is in soft cover.
The End of Money: Counterfeiters, Preachers, Techies, Dreamers and the Coming Cashless Society by David Wolman (Da Capo) $25.00 – What would be awesome is if you came in right now and bought this book and paid with cash. But we will accept your so called "credit card" too.
DIY
Ageplay From Diapers to Diplomas by Paul Rulof $19.95
Music Books
Muses Go To School: Inspiring Stories About the Importance of Arts In Education by Herbert Kohl et. al (New Press) $26.95
Magazines
The Believer #87 Feb 12 Mouthcrop $8.00
Bizarre #185 Mar 12 $10.50
True Crime Feb 12 $8.99
High Times Apr 12 $5.99
ArtForum Feb 12 $10.00
Art Es #47 International Contemporary Art $10.00
Wire #336 Feb 12 $9.99
Magnet #84 $4.99
Tattoo Revolution Feb 12 #14 $11.75
Inked Mar 12 #43 $6.99
Literary Journals, Poetry & Chap Books
Gigantic Sequins vol 3 #1 $5.00
Closer to the Earth Poems by Lynn Fitzgerald $8.00
Overtime Hour 23 – A Days Wages and the Old System and the New by Mark W. Jones $2.00
Poems For Paper by Vincent O'Brien $5.00
Other Stuff
Everything Is Terrible Presents: Doggie Woggiez Poochie Woochiez DVD $20.00 – More edited found footage craziness from those weirdo WIT allstar kids, a group known for making piles of Jerry McGuire VHS tapes in the window of Odd Obsessions. We are SUPER EXCITED that they have something new. I know what I'm doing this weekend.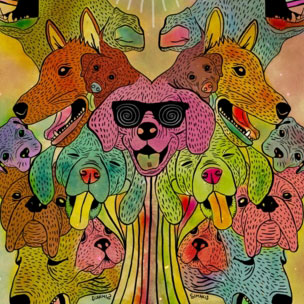 Schizcago DVD $30 – The Chicago-based director dropped these DVDs off yesterday and recorded a special message that talks to you when you open the box, each box has a different recording…Because the box is a circuit bent instrument with a knob to control the pitch where can record whatever you want over it. And then there's the DVD containing a romantic-comedyesque movie.
Everything we list on our blog is available at our store. But not everything is available on our website. Click here to see what is new in our webstore!
Adam Levin (The Instructions) Reads from Hot Pink with Tim Kinsella, author of The Karaoke Singers Guide to Self Defense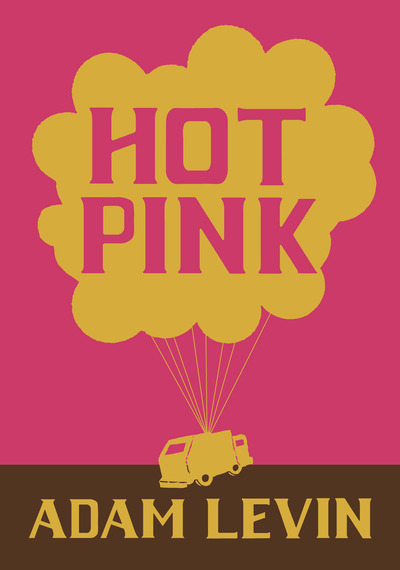 Adam Levin's debut novel The Instructions was one of the most buzzed-about books of 2010, a sprawling universe of "death-defying sentences, manic wit, exciting provocations and simple human warmth" (Rolling Stone). Now, in the stories of Hot Pink, Levin delivers ten smaller worlds, shaken snow-globes of overweight romantics, legless prodigies, quixotic dollmakers, Chicagoland thugs, dirty old men, protective fathers, balloon-laden dumptrucks, and walls that ooze gels. Told with lust and affection, karate and tenderness, slapstickery, ferocity, and heart, Hot Pink is already Flavorpill's most anticipated books of 2012.
Adam Levin's novel The Instructions won the NYLP's Young Lion's Fiction Award. His stories have appeared in Tin House, McSweeney's, and Esquire. Winner of the 2003 Summer Literary Seminars Fiction Contest and the 2004 Joyce Carol Oates Fiction Prize.
In Tim Kinsella's novel The Karaoke Singers Guide to Self Defense, a family reunites for a funeral, leery of one another, comparing splintered memories. Will bathes his grandmother. Mel gives her wig a haircut. Norman is not prepared to take over his father's club. Jesse has never known how old he is. They each cope with limited options and murky desires. Long bus rides through a post-industrial Gothic Midwest, Classic Rock, and compulsive brawls hum a requiem for the late night life of Stone Claw Grove.
Tim Kinsella has fronted such bands as Cap'n Jazz, Owls, Friend/Enemy and Joan of Arc. His writing has appeared in The Chicago Reader, Monsters & Dust, and Stop Smiling.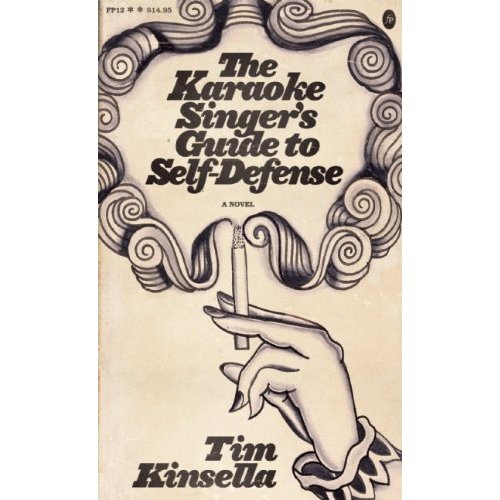 For more info:
Click here for info about Adam.

The Chicago Zine Fest is run entirely by volunteers, so your willingness to pitch in is sincerely appreciated. Here's the announcement from the nice folks at CZF:
CZF needs volunteers the weekend before the fest (March 4th) and for the actual tabling day of the fest (March 10th). Below you will find descriptions of the volunteer opportunities available and the times we need help. Please read through the information and if you are able to participate send us an e-mail to chicagozinefest(at)gmail(dot)com with your full name, phone number, the type of volunteering you'd like to do, & what day/shift you prefer (please list three choices for shifts that you are interested in — if your first choice has been filled, we will move to the next available shift on your list). We appreciate your excitement and willingness to help, and will work around your schedules.
Volunteer opportunity available in preparation for the Chicago Zine Fest:
Sign Making Party! It has become a Chicago Zine Fest tradition to host a Sign Making Party the weekend or two before the zine fest. By this we mean the creation of informational signs to be hung at the venues i.e. "Information Table","Restroom This Way", etc. The Sign Making Party will be held on Sunday, March 4th from 3-5pm at the Read/Write Library (914 N. California). We'll supply all of the materials needed — all you have to do is let us know you are coming!
Volunteer opportunities for day two of the fest, Saturday March 10th at Columbia College, 1104 South Wabash:
Set-up volunteers. This will involve helping set up chairs and tables, putting up posters and signs, etc. You'll have first crack at the free coffee! This shift is from 9-11am.
Information/Registration table volunteers. You will be responsible for maintaining one of the information tables at the zine fest exhibition. This includes handing out programs and answering any basic questions exhibitors and visitors have. Shifts are as follows:
Shift One: 9:30am-12pm
Shift Two: 12-2pm
Shift Three: 2-4pm
Shift Four: 4-6pm
Exhibitor food room volunteers. We will be offering free snacks & lunch to the zine fest exhibitors and volunteers. You will be responsible for maintaining the food room; refilling supplies as needed, making sure nobody eats a days worth of food or stuffs a tote bag full of chips, and cleaning any messes or spills. There will also be a coffee service by employees from Wormhole coffee shop. You may be asked to assist them with refilling water, cleaning up or where needed. Shifts are as follows:
Shift One: 11-1pm
Shift Two: 1-3:30pm
Shift Three: 3:30-6pm
Workshop volunteers. Tasks include helping workshop presenters with any sort of set up or breakdown (i.e. moving chairs around), monitoring the time and signalling to the presenter when time is nearing wrap up, cleaning up any materials left after the room is cleared. These shifts will be in blocks based on the length of the workshop, which vary.  Workshops start at 12pm and run until 5:45pm. If you are interested in helping with a workshop, let us know! We'll email you the workshop list (with times) once it is finalized.
Art & Reading Room volunteers. This year's zine fest will feature a room that features exhibitors' artwork, as well as examples of the zines that are available for purchase at the fest. Tasks include handing out floor maps to folks interested in particular zines (so that they can purchase zines at the authors' table), making sure no one steals the zines, making sure no one removes or tampers with the artwork, and answering general questions about the art or zines. The art show will begin to come down at 5:30. The last shift may require assistance with de-installing art pieces, returning zines or art work to exhibitors at the fest, and compiling all reading room zines into one box. Shifts are as follows:
Shift One: 9:30-12pm
Shift Two: 12-2pm
Shift Three: 2-4pm
Shift Four: 4-6pm
Kids table volunteers. The kids table will feature all of the materials that kids need to make their own zine on-site! Tasks include greeting the kids, encouraging them to make a zine, showing them the clip art/markers/etc, and taking pictures of their finished works. Shifts are as follows:
Shift One: 11-1pm
Shift Two: 1-3:30pm
Shift Three: 3:30-6pm
Roaming volunteer shifts. You will be available to attendees, exhibitors, other volunteers and organizers on either the first or eighth floor for miscellaneous tasks. Duties also include clean up of materials dropped on the ground (look for recycling bins throughout the building). You will be asked to direct patrons to where elevators, bathrooms, workshop/art rooms are. You might be asked to relieve an exhibitor from their table, thereby sitting at a exhibitors' tables if they need to use the restroom, etc. Shifts are as follows:
Shift One: 10am-12pm
Shift Two: 12-2pm
Shift Three: 2-4pm
Shift Four: 4-6pm
Tear down/clean up volunteers. We only have one hour to close up shop! Tasks include breaking down tables and chairs, removing any zine fest signs posted on the walls (including adhesive), and general clean up of waste materials (again, recycling is key!). This shift is from 6-7pm.
(Please note that all venues are wheelchair accessible.)