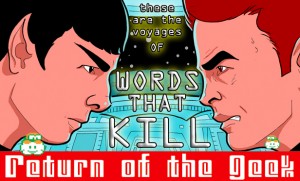 Every year Words That Kill celebrates everything nerdy and geeky through literary, visual and performance arts. In the past, this meant love letters to Mr. Spock, comedy sketches about surviving zombie apocalypse, and poetry about inner Jedi and addiction to video games, amongst others.
This month the Geek is back once again and he has planned an even more mind-boggling extravaganza with features by The Former Fat Boys (Mixtape release party), The Great Luke Ski and art installation by Rotofugi, John Campbell (Pictures For Sad Children), and many more artists and performers.
Lethal Poetry Presents  W O R D S  T H A T  K I L L –  a comedy / poetry series & omni-slam featuring local, national touring, and award winning comedians and poets.
Return Of the Geek on Thursday, June 16th and W O R D S  T H A T  K I L L every 3rd Thursday
@ creative lounge CHICAGO (1564 N. Damen Ave 3rd Fl., Wicker Park)
Doors / Sign-up 7 PM
7:00 – Open Mic (geeks only please this month)
8:00 – Show
ALL AGES
Admission: $5 or FREE with canned goods donation.
Featured Performers:
The Former Fat Boys: are the creators of YouTube sensation "I'm a Dinosaurus" and "Nerdapalooza." Their sound resembles that totally pumped up noise you make when you're watching the original Power Rangers and Tommy the Green Ranger blows his knife flute and the Dragonzord comes up and you just know there's some ass that is about to be kicked, so you jump out of your seat and punch the wall and scream! Since they understand that they are continually awesome and timeless they call their genre: Shatnercore. The group will be releasing a mixtape called, "Wanna Buy Beats" – the idea spawned from all of the spam on MySpace, Twitter and Facebook to buy beats. So they bought a bunch and created an album.
The Great Luke Ski: is the 21st century Weird Al Yankovich, but with better hair and no mustache! At Dragon*Con 2004, Dr. Demento declared "the great Luke Ski" to be his program's "Most Requested Artist of the 21st Century". Since then, he's held that title by having songs on "Dr. Demento Show's" annual year-end "Funny 25" countdown of his most requested songs for nine years running, two of which ranked #1 ("Peter Parker" 2002, "Stealing Like A Hobbit" 2003), & two ranked #2 ("You Don't Know Jack" 2006, "Too Much Stuff" 2009). His song parodies, originals, and sketches about pop culture make him a popular act at sci-fi and geek conventions nationwide. In his 9 albums and 1 DVD release he's covered: Lord of The Rings, Star Wars Star Trek, Battlestar Gelactica, Anime, Marvel, Spider-Man, and much much more!
John Campbell: is best known for a popular web comic Pictures For Sad Children, but he is no stranger to gallery art. His work is satirical by nature and his humor has been described as "…mostly dark, incorporating elements of magic realism…" Campbell, began his work in 2007 while he lived in Zacatecas, Mexico, but has since moved to Chicago, released a book of the first 200 comics and continues to exhibit his gallery work with great success.
Rotofugi Artists: Rotofugi is a fantastically geeky store notable for carrying a culture of toys whose origins trace back to China and Japan. Established in 2004 by husband and wife Kirby and Whitney Kerr, the store is a staple destination for geeks and nerds of Chicago. The store runs a gallery that will be exhibiting work from various artists that they represent (including Shawnimals and Squibbles Ink)
That Juggling Guy aka Brad French: will make his second appearance at Words That Kill. A juggler and comedian, Brad is known to wonder off into ontological and existential discourses while trying to keep several objects in the air.
Corey Arcangel is a digital artist from Brooklyn, NY. His work is concerned with the relationship between technology and culture, and media appropriation. He uses many different media including drawing, sculpture, video, and photographs but is best known for his video game ROM hacks.
DJ Limbs: Nerdcore and Top Geek 40's all night!
Additional visual artists include: Seamus P Burke (of web comic Oh Goodie!) and Sara Brumlick (of Dikkers Animation)
Hosted by Lethal Poetry's President Mojdeh Stoakley as William Shatner!
__________________________________________________________
Words That Kill has been repeatedly selected for Metromix's "Best Bets" column, written about in Sun-Times, and reviewed in NewCity. Our past performers include such distinguished comedians and poets as Marc Kelly Smith, Javon Johnson, Cameron Esposito, Marty McConnell, Michael Lebovitz, Chad Briggs, Robbie Q. Telfer, Brian Babylon, Shannon Matesky, Avery R. Young and others!
Lethal Poetry is an arts/entertainment company and label built to support non-profits through the arts. LP produces interdisciplinary art exhibitions, music, comedy & poetry events, and seeks to utilize arts & entertainment as means to provide public service.