Thanks to Dave Roche for taking this photo of Luke Sinclair (Platic Knife, You, Sticky) reading here and posting it on Flickr. Took some pictures here at Quimby's? Tag 'em with Quimby's Bookstore and/or add them to the Quimby's Bookstore Group on Flickr. If you took a picture you're particularly proud of let us know and we'll post it on our blog.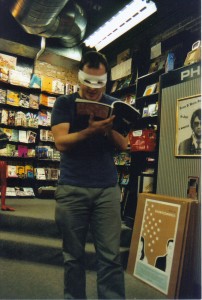 But! So! New Stuff This Week!
ZINES & ZINE-RELATED BOOKS!
East Village Inky #47 by Ayun Halliday $3.00
Lean Mean Teen Zine Machine #2 and #3 $1.00 each
Vamostja Vampire Monster Ninja $1.00
Talzine #1 A Zine About Taleen – A Zine About Being Armenian by Taleen $2.00
Dining With Words – An Artists Banquet by Caroline Liebman, Taleen Kalenderian and Nicki Yowell $6.00
Faux Cal Point Press vol 1 #1 May 11 $1.00
Filth #1 Jan 11 $2.00 and Filth #2 Spr 11 $3.00
A Day in the Life of Baldwin P Leninforth Ombudsman #1 by Jennifer Shiman $5.00
Pneuma #1 by Tommy Nease $10.00
Holiday Pay #20 Appropriate Attire bt Turner Hilliker $3.00 – We also have several back issues.
Turbochainsaw #6 $7.50
Monsters Rock Apr 11 by Kione Kochi $2.50
Maribooks #1 Bully Power by Maria $1.00
Danielas World #1 by Daniela $1.00
12 Going on 13 $1.00
Your Boss Wants To Instill Confidence – Impar Skills and Ignite Potential by M. Miller $10.00
Bushwick Review #2 by Kristen Felicetti $5.00
How Things Break – A Short Poem by Marissa F $.50
Nature of Love – An Exploration by Devan Elyse Bennett $1.50
Bound Woman – Meditations On Love and Loneliness $1.50
COMICS & MINI COMIX!
Life & Times of Baby Otto Zeplin #5 by BT Livermore $4.00
Terrible Beasts $4.00
Elf World vol 2 #2 ed. by Francois Vigneault (Family Style) $7.00 – Fabulous anthology featuring such artists as Horrocks, Tinder and more!
Andromeda #12 by Andy Scott $2.00
Peoplings Ashcan 2011 Autism Education and the Savage of Aveyron by Courtney Angermeier and Jeff Benham $3.00
Nace and Cenu At the Park by Natalie Peary and Jeff Benham $3.00
Feeberts Guest #2 an Ombudsman Tale by Jennifer Shiman $5.00
GRAPHIC NOVELS & TRADE PAPERBACKS!
Congress of the Animals by Jim Woodring (Fantagraphics) $19.99 – Jim Woodring's second full-length graphic novel, and first starring his signature character Frank that tells the story of what happens when Frank leaves the Unifactor.
Citizen Rex by Mario and Gilbert Hernandez (Dark Horse) $19.99 – This book asks the question "What compels life without a soul?" and is a bizarre, sexy view of the future! This handsome hardcover collection also features a new cover by Gilbert, sketches and behind-the-scenes material from Mario, and a special pinup from third Hernandez brother Jaime.
Isle of 100000 Graves by Jason and Fabien Vehlmann (Fantagraphics) $14.99 – Jason teamed up with Fabien Vehlmann to tell this dark comedy about a treasure map that leads to an island with a terrible secret.
Buffy The Vampire Slayer season 8 vol 8 Last Gleaming by Joss Whedon and various (Dark Horse) $16.99
Yesterday and Maybe Tomorrow Too by Jeff Benham and Courtney Angermeier $6.00
Salmonilla Chronicles Collection vol 1 or Patchoulis Allure by Jeff Benham and Martinez Ryk $7.00
Blacksad by Juan Diaz Canales and Juanjo Guarnido (Dark Horse) $29.99
Blunderbuss Wanderlust – Being an Account of the Temprol Travels of Colonel Victor by David Shapiro and Christopher Herndon $14.99
Tooth by Cullen Bunn, Shawn Lee and Matt Kindt (Oni) $24.99
Celluloid HC an Erotic Graphic Novel by Dave McKean (Fantagraphics) $35.00 – Dave McKean's first original graphic novel since his landmark book Cages. And it's kinda sexy.
Graphic Subjects: Critical Essays on Autobiography and Graphic Novels by Michael A. Chaney (University of Wisconsin Press) $26.95
ART & DESIGN BOOKS!
Cellophane House $20.00
Art and Agenda Political Art and Activism (DGV) $68.00
FICTION!
Tell All by Chuck Palahniuk (Anchor) $14.95 – Now in soft cover.
Wicked Gentlemen by Ginn Hale (Blind Eye) $12.95
Citrus County by John Brandon (McSweeneys) $14.00 – Now in soft cover.
DIY & HOW-TO!
Kid Made Modern: 52 Kid Friendly Projects Inspired by Mid Century Modern Design by Todd Oldham (Ammo) $22.95
We Are Paper Toys by Louis Bou (Collins) $29.99
Pinhole Cameras: A Do It Yourself Guide by Chris Keeney (Princeton) $18.95
Protest Stencil Toolkit by Patrick Thomas (Laurence) $24.95
Psychedelic Explorers Guide: Safe Therapeutic and Sacred Journeys by James Fadiman PhD (Park Street) $18.95
LITERARY JOURNALS, CHAP BOOKS & POETRY!
Granta #115 Spr 11 The F Word $16.99
Conduit #22 $10.00
Issues #5 and #6 of Concisely: Stories Under 500 Words $4.00 each
Theyre at It Again: Stories From Twenty Years of Open City, ed. by Thomas Bellar and Joanna Yas (Open City) $22.95
MAGAZINES!
Maximumrocknroll #337 Jun 11 $4.00
Chicago IRL #1 Spr 11 $20.00
AdBusters #96 July Aug 11 $8.95
In These Times Jun 11 $3.50
Cabinet #41 Infrastructure $12.00
Bizarre #176 Jun 11 $10.50
Art of Mary Jane Jun 11 $6.99
Frieze #139 May 11 $10.00
Infamous #4 $6.99
Murder Most Foul #80 $9.99
Monocle vol 5 #44 Jun 11 $10.00
IdN vol 18 #2 $17.50
Fangoria #304 $8.99
True Crime May 11 $8.99
Skateboard Mag #88 $3.99
Pinstriping #26 Kustom Graphics Magazine $9.95
Mojo #212 Jul 11 $9.99
Big Takeover #68 $5.99
Tattoo Collection #44 $7.75
Bound By Ink Annual 11 $8.99
CHILDRENS BOOKS!
ABC is for Circus by Patrick Hruby (Ammo) $14.95
The Red Shoes by Gloria Flower and Sun Young Yoo (Ammo) $16.95
Terra Tempo Ice Age Cataclysm by David Shapiro, Christopher Herndon and Erica Melville $14.99
City Numbers by Joanne Schwartz and Matt Beam (Groundwood) $18.95
Adventures of Tintin: Secret of the Unicorn Young Readers Edition by Herge (Littlebrow) $8.99 – Includes bonus source material section.
Adventures of Tintin: Red Rackhams Treasure Young Readers Edition by Herge (Littlebrow) $8.99 – Includes bonus source material section.
Patrick in a Teddy Bears Picnic and Other Stories – A Toon Book by Geoffrey Hayes (Toon Books) $12.95
MUSIC BOOKS OR BOOKS WRITTEN BY MUSIC PEOPLE!
Buskers: The On-the-Streets, In-the-Trains, Off-the-Grid Memoir of Two New York City Street Musicians by Heth and Jed Weinstein (Soft Skull) $14.95
MUCKRACKING, MEMOIRS, MAYHEM, MISCREANTS & MISCELLENOUSNESSESESNESS!
JFK and UFO: Military Industrial Conspiracy and Cover Up From Maury Island to Dallas by Kenn Thomas (Feral House) $17.95 – Illustrated with rare images, JFK & UFO interconnects the lingering mysteries of America's most notorious assassination and its weird ufological subculture.
Casebook On the Men in Black by Jim Keith (Adventu) $14.95
Soft Skull's Deep Focus Series takes a critical and entertaining look at selected films and devotes a slim volume of affordable analysis ($12.95 each) to each film, not unlike Continuum's 33 1/3 Series, except with movies instead of albums: Heathers by John Ross Bowie and The Bad News Bears In Breaking Training by Josh Wilker
It Was Over When…: Tales of Romantic Dead Ends by Rob K. Elder (Sourcebooks Casablanca) $12.99 – By local journalist Rob K. Elder, who was a staff writer at the Chicago Tribune from 2000-2009. This snapshot of modern romance gone bad is complete with its complexities and contradictions, compiling the best user-submitted stories from ItWasOverWhen.com, a site devoted to lost love, as well as from its companion website (www.itwasoverwhen.com), to create a greatest hits collection of cringe-inducing love schadenfreude.
POLITICS & REVOLUTION!
The Beach Beneath the Street: The Everyday Life and Glorious Times of the Situationist International by McKenzie Wark (Verso) $26.95
The Next American Revolution: Sustainable Activism For the Twenty-First Century by Grace Lee Boggs (Univ Calif) $24.95
SEX & SEXY!
Pinups #14 $14.00
Afternoon Pleasures: Erotica for Gay Couples by Shane Allison (Cleis) $14.95
Jade Door Erotic Stories from Ancient China by Chaiko, Cheng Cheng, 7th Orange (Eurotica) $17.99
Travel Naturally #79 $9.95
OTHER STUFF!
Weirdo bobbleheads: GG Allin 1991 Condensed Carnage Edition Throbblehead $14.95, Keith Morris Statue Aggronautix $19.95, Tesco Vee of the Meatmen Bobblehead Aggronautix Condensed Carnage $19.95, Wendy O Williams Aggronautix Condensed Carnage Bobblehead $19.95