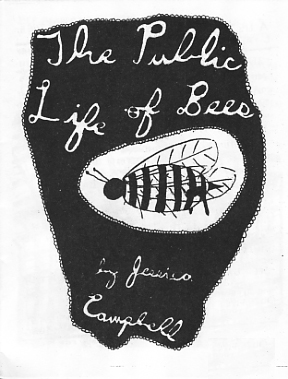 Public Life of Bees by Jessica Campbell (Oily Comics) $1.00 – Honey, hive got a feelin' the whole town will bee buzzin' about this new lil zzzzzzzzine from Jessica Campbell! -EF
Zines & Zine-Related
Alamo Igloo #11 by Keith G. Herzik $5.00
I Was Born With a Plastic Spoon in my Mouth by KE Bleier $5.00
Basic Paper Airplane #6 by Joshua James Amberson $3.00
Doom Spiral #5 Jan 13 by P. and Spaz $3.00
Vagina the Zine #7 Win 13 $4.00
Comics & Comix
Gray is Not a Color: True Tales From the Basement of the Mutter Museum at the College of Physicians of Philadelphia by Sally Madden $5.00
Accidental Salad by Joe Decie $7.99
RL Rosalie Lightning Comic by Tom Hart $4.00
86d vol 1 #1 $10.00
Boots and Pup #1 $2.99
Lights Please by Budnik $2.00
Sock by Box Brown $3.00
Lou #9 by Melissa Mendes (Oily Comics) $1.00
End of the Fucking World #14 by Charles Forsman $1.00
Blood Visions Part 1 by Zach Worton $1.00
Moose #14 by Max De Rodrigues (Oily Comics) $1.00
Islands #2 Brown Cover by Brendan Monroe $8.00
Graphic Novels & Trade Paperbacks
Tales Designed to Thrizzle vol 2 by Michael Kupperman (Fantagraphics) $24.99
Grammar of Rock: Art and Artlessness in 20th Century Pop Lyrics by Alexander Theroux (Fantagraphics) $28.99
Freddie Stories by Lynda Barry (D&Q) $19.95 – Reprinted in gorgeous hardcover.
Medusa by Kacy McKinney and Milissa Orzolek $17.00
Books of Magic Deluxe Edition by Neil Gaiman et al. $24.99
Feminism In the Worlds of Neil Gaiman: Essays On the Comics, Poetry and Prose by Tara Prescott et al. (McFarland) $35.00
Art & Design Books
Sheetz by Joe Roarty $20.00
Black Antoinette: The Work of Olaf Hajek (DGV) $60.00
Curiosity and Method:Ten Years of Cabinet Magazine $40.00
Metalheads: The Global Brotherhood by Jorg Bruggeman (DGV) $60.00
Mati and the Music: 52 Record Covers 1955-2005 A Book About Mati Klarwein $45.00
Fiction
Umbrella by Will Self $25.00
Pharmacists Mate and 8 by Amy Fusselman (McSweeneys) $14.00 – Two books in one!
Hot Pink by Adam Levin (McSweeneys) $14.00 – Don't miss Hot Pink author Adam Levin on the most recent episode of the Quimby's Podcast.
Last Girlfriend on Earth and Other Love Stories by Simon Rich $19.99 – This author is hilarious. For reals.
Tenth of December by George Saunders $26.00
Good Kids by Benjamin Nugent $23.00
Mayhem, Miscreants, Memoirs, Music & Misc
Lydia Lunch Interviews (Re/Search) $9.99 – Jump to the top of my winter reading list! -EF
Henry Rollins Interview (Re/Search) $9.99 – "…he got a Black Flag tattoo and some man who didn't know who that was at some truck stop said, "Are you covering up your ex-wife's name?" And he was like, "This is my ex-wife's name." And I was like "Oh damn, that's what I'm talkin' about.""
Full Service: My Adventures In Hollywood and the Secret Sex Lives of the Stars by Scotty Bowers and Lionel Friedberg $16.00
East Hill Farm: Seasons with Allen Ginsberg by Gordon Ball (Counterpoint) $18.95
Drinking With Men: A Memoir by Rosie Schaap $26.95
Inventor and the Tycoon: A Gilded Age Murder and the Birth of Moving Pictures by Edward Ball $29.95
The Disappearing Spoon: And Other True Tales of Madness, Love, and the History of the World from the Periodic Table of the Elements by Sean Kean $14.99
Miracles of Life: Shangai to Shepperton: An Autobiography by JG Ballard $25.95
Kingdom Come by JG Ballard $15.95
Druuuuuuuuugs
Cannabis Sativa vol 2 Essential Guide to the Worlds Finest Marijuana Strains by ST Oner and Mel Thomas (Green Candy Press) $20.00
Entheogens: Myth and Human Consciousness by Carl AP Ruck et al. (Ronin) $16.95
Magazines
Black Velvet #75 $9.00
Razorcake #72 $4.00
Mojo #231 Feb 13 $9.99
Hyphen #26 Spr 13 $7.95
Poetry, Lit Mags, Lit Journals, Chap Books
The Believer #96 $8.00
Literary Review vol 55 #4 Fall 12 $8.00
Specimen Magazine #4 $6.00
Midwestern Gothic #8 Win 13 $12.00
St Petersburg Review vols 4 and 5 $20.00
Ninth Letter vol 9 #2 Fall Win 12 13 $14.95
Flower and the Plough by Rachel Piercey and Emma Wright $8.00
Politics & Revolution
Lucy Parsons: An American Revolutionary by Carolyn Ashbaugh (Haymarket) $16.00
Mexican Revolution: A Short History 1910-1920 by Stuart Easterling (Haymarket) $14.00
Occupy the Future by David B. Grusky et al. (MIT/Boston Review) $14.95
It's No Good: poems / essays / actions by Kirill Medvedev (NPlusOne/Ugly Duckling Press) $16.00 – The author is a young Russian poet who in 2003 rejected the Moscow literary world for its corruption and irrelevance. In the years since, he has protested the Putin regime on the streets of Moscow, written long essays about the post-Soviet intelligentsia, and taken his poetry in new directions.
Adventures of Ed Tuttle, Associate Justice and Other Stories by Jay Wexler $10.00 – Don't miss author Jay Wexler here at Quimby's on March 30th! Stay posted to Quimbys.com for info. We also have his book Odd Clauses: Understanding Constitution Through 10 of Its Most Curious Provisions.
Gender Studies, Sex Guides & Culture
Queering Anarchism Addressing and Undressing Power And Desire by CB Daring et al. (AK Press) $19.95
The Feminine Mystique: 50 Years by BEtty Friedan $25.95
Sexy Sexy
Candid: How Do You Expose Yourself? by Benji Bright (Queer Young Cowboys) $5.99 – Ten anonymous interviews regarding gays and sex – a compulsive read in a satisfyingly voyeuristic pocket-paperback format.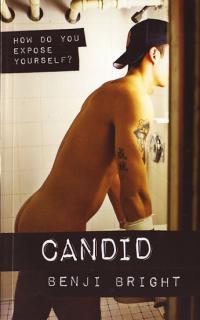 Adult Movie Superstars vol 2 Eurozone Photos by Jack Hunter (Wet Angel) $24.95
The Big Book of Bondage Sexy Tales of Erotic Restraint by Alison Tyler (Cleis) $15.95
Handbook vol 7 #1 2013 $6.00
Other Stuff
Serious Business Celebrity Death Calendar 2013 $20.00