View this post on Instagram
No New Stuff Saturdays Livestream this week but here's the new stuff post a day early!
Zines & Zine-Related
Long Arm Stapler COZY by Heather Anacker! Made exclusively for Quimby's!!! $20
Freaks and Geeks: A Fanzine by Lizzie Robillard (Fluke Publishing) $5
Christopher Coppola Fanzine $5
Feline Frustrations by Colt Hack $5
Five Day Death Workbook $12
Words and Smiles #5 $4
Comics & Minis
Stuff from Nick Bunch/Reptile House Comix: Reptile House issues #7 & #8, Blood Horn #1
Lemonade Tango #1 by Henry Uhrik $7
Comics by Wyatt Phillips & friends: Shitty Presidents, Everything Rots & more
On Sneaking by Jon Inaki $10
Multiple Comics by Kai Lumbang: All Boys Leave Home, End Comes Beyond Chaos, Celestial Summons & more.
Kitchen Witchen & DIYing & Parenting & Doing Things
Hang In There Kitten TEA TOWEL by Heather Anacker $12
Kitchen Witch: Natural Remedies and Crafts for Home, Health, and Beauty by Katie Haegele & Nadine Schneider (Microcosm) $19.95
Woke Parenting: Raising Intersectional Feminist, Empathic, Engaged, and Generally Non-Shitty Kids While Still Having a Life by Faith G. Harper & Bonnie Scott (Microcosm) $14.95
Unfuck Your Friendships: Using Science to Make and Maintain the Most Important Relationships of Your Life by Faith G. Harper (Microcosm) $14.95
Graphic Novels
Too Tough to Die: An Aging Punx Anthology edited by Haleigh Buck and J. T. Yost (Birdcage Bottom Books) $20
Comrade Himbo featuring Aim Ren Beland & friends (POMEpress) $25
Creepy Case Files of Margo Maloo vols 2 & 3 by Drew Weing
Mayhem
Tarot for Change: Using the Cards for Self-Care, Acceptance, and Growth by Jessica Dore $27
Magic: A History from Alchemy to Witchcraft From the Ice Age to the Present by Chris Gosden $20 – Now in soft cover.
Fiction
C.A.T.S.: Cycling Across Time And Space: 11 Feminist Science Fiction and Fantasy Stories about Bicycling and Cats by Elly Blue (Microcosm) $12.95
Dispatches from Anarres: Tales in Tribute to Ursula K. Le Guin $18
Druuuuuuugs
Dopeworld: Adventures in Drug Lands by Niko Vorobyov $18.99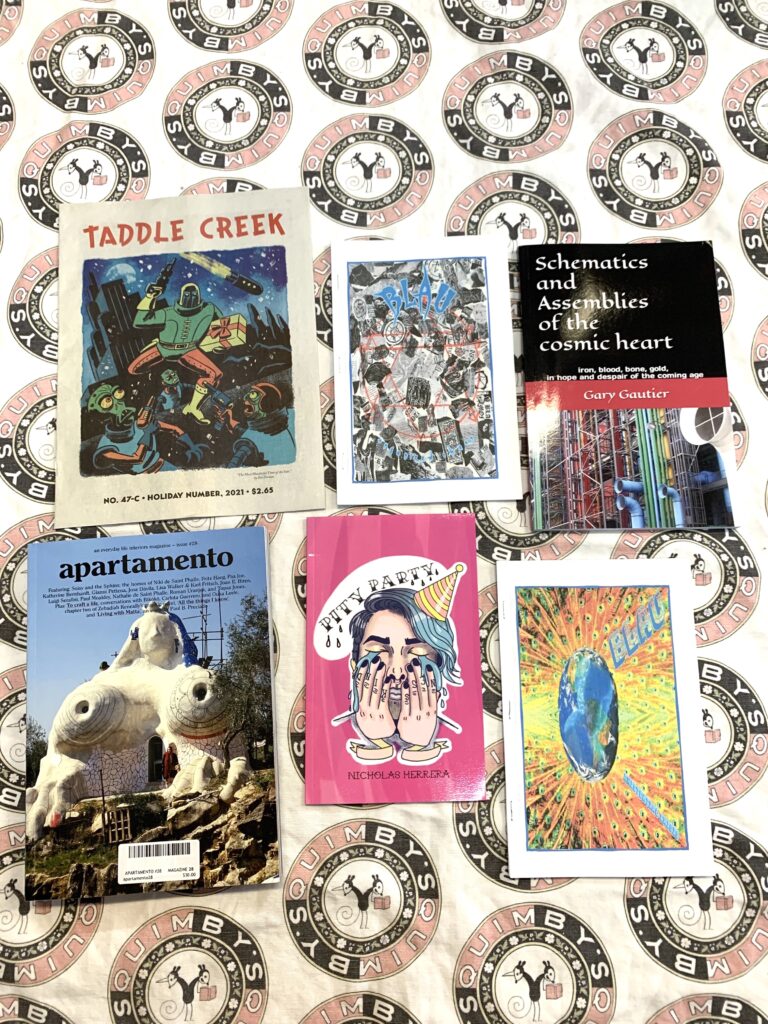 Chap Books, Poetry, Lit Journals
Titles by Blau, $5 each: Existential Crisis, Organized Chaos
Schematics and Assemblies of the Cosmic Heart by Gary Gautier $10
Pity Party by Nicholas Herrera $13
Taddle Creek #47 C Holiday 2021 $2.95
Magazines
Apartamento #28 $30
Essays
The 88 Keys That Opened Doors by Charles Joseph Smith edited by Kate Hutchinson $15